Contributors' Notes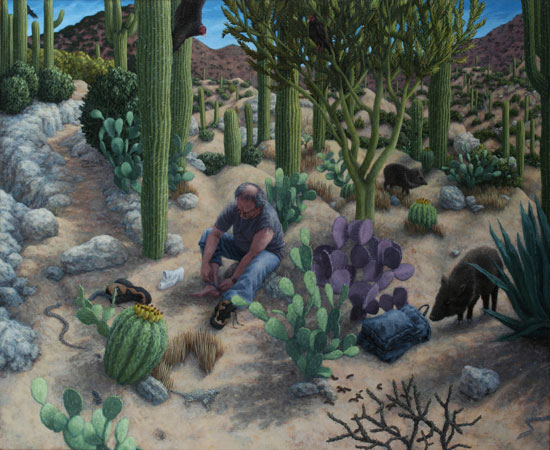 Marco Polo Gets a Blister From New Shoes, 2002, oil and acrylic on panel, 9x11 inches,
by Nora Sturges

Gale Acuff has had poetry published in Ascent, Ohio Journal, Florida Review, Poem,and many other journals, and is the author of three books of poetry: Buffalo Nickel (BrickHouse, 2004), The Weight of the World (BrickHouse, 2006), and The Story of My Lives (BrickHouse, 2008). (104)
Idella Anacker is a resident of Portage, WI and a member of the Wisconsin Fellowship of Poets.
C.B. Anderson was the longtime gardener for the PBS television series, The Victory Garden, where he went by his nickname, Kip. At the very moment he types this, he is housesitting for Michael Weishan, former host of the TV show mentioned above, who is currently visiting his mother in Milwaukee. His poems have appeared in print and electronic journals in North America, Great Britain, Ireland, Australia, and India.
Stephen Anderson was the First Place winner of the Kay Saunders Memorial New Poet Award in the 2005 WFOP Triad Contest. His work has appeared in Southwest Review, Tipton Poetry Journal, Harvests of New Millennium, Free Verse, Foundling Review, Wisconsin Poets' Calendar, Fox Cry Review, and elsewhere. His chapbook is The Silent Tango of Dreams (Pudding House Publications 2006). He lives with his wife in Shorewood, Wisconsin.
Marilyn Annucci is the author of Luck (Parallel Press). See Umbrella Journal and Tupelo Press's April Poetry Project for recent poems. Marilyn came to Wisconsin from Boston for a summer in 1988 (that "summer" lasted five years), and she returned in 1997. She is an associate professor at the UW-Whitewater.
Antler, former poet laureate of Milwaukee, is the author of Selected Poems, Ever-Expanding Wilderness, Deathrattles vs. Comecries, and Exclamation Points ad Infinitum! His work appears in the recent anthologies Poets Against the War; Poetic Voices Without Borders 2; Best Gay Poetry 2008; Comeback Wolves: Welcoming the Wolf Home and Wilderness Blessings.

Linda Aschbrenner is the editor/publisher of Marsh River Editions. She edited and published the poetry journal Free Verse from 1998 to 2009 which now continues as Verse Wisconsin.
James Babbs lives and dies a little each day in the small town where he grew up. He works for the government but doesn't like to talk about it. He likes getting drunk and writing, and sometimes it's hard to tell the difference because both of them can be very intoxicating. Recent poems have appeared in Gutter Eloquence, Fight These Bastards, and Song of the San Joaquin Quarterly.
Daniel Bachhuber is a Montessori elementary teacher in the St. Paul Public Schools. He has published poetry in the Iowa Review, Poetry East, The Southern Poetry Review, and many others, as well as a book, Mozart's Carriage, from New Rivers Press, 2003. He was born and raised in Wauwatosa, Wisconsin and attended Marquette High School and Marquette University.
Bobby Steve Baker is a Cosmetic Surgeon soon to complete the MFA in Creative Writing (Poetry) at National University. His poems have appeared in more than 20 journals including The Ann Arbor Review, Grey Sparrow, and Boston Literary Magazine.
Ned Balbo's most recent book, The Trials of Edgar Poe and Other Poems (Story Line Press/WCU Poetry Center), received the 2010 Donald Justice Prize. His previous collection, Lives of the Sleepers (University of Notre Dame Press), received the Ernest Sandeen Poetry Prize and a ForeWord Book of the Year Award. Recent poems are out or forthcoming in print or on-line at The Hopkins Review, Notre Dame Review, Shenandoah, and elsewhere. More Marco Polo poems may be found at Unsplendid and The Nepotist.

Judith Barisonzi has been a Wisconsin resident since 1966, and she now lives among the lakes and woods of northwest Wisconsin. Semi-retired from teaching English at the University of Wisconsin Colleges, she gives workshops in creative writing and memoir writing, participates in several local writing groups, and publishes poems in local and national magazines.
Laurel Bastian is the current recipient of the Halls Emerging Artist Fellowship at UW-Madison, and her work can be found in Margie, Cream City Review, Nimrod, Puerto del Sol, Tar River Poetry, Anderbo and other journals. She runs a creative writing program in a men's correctional facility near Madison, Wisconsin. "Songs for Small Arms" was inspired by photographer Michael Kienitz's exhibit, "Small Arms: Children of Conflict."
Gerald Bertsch grew up on the plains of South Dakota and attended a one room school house for 6 years. His graduate studies in theology were done at Union Theological Seminary in New York City. His books of poetry include In This Land: Prairie, a poetic memoir of his childhood on the homestead in South Dakota.
B.J. Best is the author of State Sonnets from sunnyoutside as well as Birds of Wisconsin, forthcoming from New Rivers Press.
Peter Branson lives in Rode Heath, a village in South Cheshire, England. A former teacher and lecturer, he now organizes writing workshops. Over the last four years he has had work published, or accepted for publication, by many mainstream poetry journals in Britain. He has also had poems published in the USA, Canada, EIRE, Australia and New Zealand.
Joseph Briggs has been on the Capitol tour seventeen times. Okay, it's more like five times. Ask him a Wisconsin question. He dares you. His poetry-only twitter feed ishttp://twitter.com/joewbriggs, and he also has a blog.
Sarah Busse is a co-editor of Verse Wisconsin. Her chapbook, Given These Magics, is out from Finishing Line Press in 2010.
Jeremy Byars's chapbook, Eyes Open to the Flash, was published in 2008 by Finishing Line Press. His poems and reviews have appeared in many journals, recently or forthcoming in Verse Wisconsin, Writer's Bloc, Tidal Basin Review and Stymie Magazine. He shares with many native Wisconsinites a love of the Chicago Cubs and is likewise unashamed of this affinity.
Edward Byrne is the author of six collections of poetry, most recently Seeded Light (Turning Point Books, 2010). A seventh book, Tinted Distances, will be released in 2011. His work has also appeared in numerous literary journals and anthologies. He is a professor in the English Department at Valparaiso University, where he edits Valparaiso Poetry Review.
John L. Campbell started free-lance writing for business and trade magazines in 1995. His book, Writing in Retirement, explains his evolution into fiction and poetry along with the profiles of thirteen other writers-in-retirement. His latest poetry chapbook is entitled Backstreet Voyeur.
Alan Catlin lives in Schenectady, New York.
Robin Chapman's most recent book is Abundance (Cider Press). Her poems have appeared recently in Prairie Schooner and Poetry East. She co-edited the anthology of women's poems Love Over 60(Mayapple Press, 2010).
Cathryn Cofell is the author of five chapbooks, most recently Kamikaze Commotion (Parallel Press, 2008). Her latest project is a CD called Lip,poems set to the music of Obvious Dog. Her poetry can be found in places like MARGIE, Oranges & Sardines, NY Quarterly and Wisconsin People & Ideas, where she was selected for the 2008 John Lehman Poetry Award. She is currently on the Advisory Board of Verse Wisconsin. Visit her at www.cathryncofell.com.
Maryann Corbett's work has appeared in Atlanta Review, Measure, Christianity and Literature, and many other journals in print and online. It has received the Lyric Memorial Award and the 2009 Willis Barnstone Translation Prize. Gardening in a Time of War was published by Pudding House Press and another chapbook, Dissonance, is forthcoming from Scienter Press. For her, Wisconsin is the place just over the river, where colleagues live and friends teach, the first place she crosses when she's outward bound and the last stretch when she returns.
Barb Cranford was an assistant editor at Britannica Junior, a poet, a sculptor and a gallery owner in Chicago. She has seven books and a Pushcart nomination, holds poetry workshops in her Central Wisconsin home in the woods, and writes poems when she feels like it.
While working as a poet, novelist, memoirist, and visual artist, Melissa Croghan spends many summers staring over the wide waters of the Great Lakes that connect Michigan to Wisconsin. Her poems are published widely, from Voices in Michigan to The Massachusetts Review. Her artwork is recently included in a permanent hospital collection for healing, alongside the work of Alexander Calder and Sol Witt. Find her paintings atmelissacroghan.com.
The recipient of the 2009 Paterson Award for Literary Excellence, Barbara Crooker's most recent book is More (C&R Press, 2010). She has been to Wisconsin on vacation, visiting friends in Mequon, Milwaukee, Madison, and Waukesha (which she now knows isn't pronounced "Waw-keé-sha").
Kate Cumiskey's work appears or will appear in Crazyhorse, Beloit Poetry Journal, and Paterson Literary Review. Her book Surfing in New Smyrna Beach was published with Arcadia in March, 2010. With her MFA from the University of North Carolina, Wilmington, she now teaches at the University of Central Florida. Both boys mentioned in "Driving Lessons" were Wisconsin transplants to New Smyrna Beach, FL. Kate married one of them, and just celebrated her 28th anniversary.
Alice D'Alessio is the author of the biography: Uncommon Sense; the Biography of Marshall Erdman. Her poetry book A Blessing of Trees was winner of the 2004 Posner Award from the Council for Wisconsin Writers, and her 2009 book, Days We Are Given was first place winner in the Earth's Daughters chapbook contest. She is contributing editor to Woodlands and Prairies Magazine.
Catherine Daly is the author of eight books, most recently VAUXHALL (Shearsman, 2008). Her parents went to college in Wisconsin, and she read in Madison some years ago with David Graham.
Bruce Dethlefsen plays bass and sings in the musical (he hopes) duo Obvious Dog, the name taken from Wiscosnin Poet Laureate Marilyn L. Taylor's description of a poem "beyond resuscitation."
Cathy Douglas was born in California, but has lived in Madison for the last twenty years. She works in a metaphysical shop near campus and owns a house on the east side, where she keeps her husband, two sons and three cats. She's pretty well adjusted, other than a writing habit and a craving for kumquats. She was published for the first time in Verse Wisconsin #102.
Susan Elbe is the author of Eden in the Rearview Mirror (Word Press) and a chapbook, Light Made from Nothing (Parallel Press). Her poems appear or are forthcoming in many journals and anthologies, including Blackbird, diode, MARGIE, North American Review, Ocho, qarrtsiluni, Salt Hill, and A Fierce Brightness: Twenty-five Years of Women's Poetry (Calyx Books). Among her awards are the inaugural Lois Cranston Memorial Poetry Prize (Calyx), the 2006 Lorine Niedecker Award, and fellowships to Vermont Studio Center and Virginia Center for Creative Arts. You can learn more about her and her work at www.susanelbe.com.
Karl Elder, Poet in Residence at Lakeland College, is among five Chad Walsh Award recipients who read in Denver at an AWP session in celebration of the 60th anniversary of Beloit Poetry Journal. His most recent volume is Gilgamesh at the Bellagio from The National Poetry Review Award Book Series.
Paul J. Enea's poetry has appeared in Riverwest Review, Porcupine Magazine, and in a chapbook published by Blue Canary Press. He grew up on Milwaukee's east side, in Riverside Park, and began writing poems seventeen years ago. He feels as if he's just getting started.
Josh English is 25. He lives and works in Louisville, KY. He received his BA in English from Ripon College. In addition to four years of college in Wisconsin, he hitchhiked up to Fond du Lac one time last year. This is his first poem to appear in print.
Fabu is Madison's third Poet Laureate. She has a new publication, Poems, Dreams and Roses that came out in 2009. In Our Own Tongues will be published by the University of Nairobi Press in 2010 and African American Life in Haiku will be published by Parallel Press in 2011. Her website is www.artistfabu.com.
Beatriz F. Fernandez's cousin-in-law, Jane Banning, is a prose writer who lives in Oregon, WI. Searching for Jane's writing on the web, she came across Verse Wisconsin. Beatriz was the grand prize winner of the 2nd Annual Writer's Digest Poetry Award. She's currently a reference librarian at Florida International University in Miami.
Thomas Ferrella is an artist living in Madison. The BORDERLAND book which accompanies the show can be purchased at http://www.blurb.com/bookstore/detail/1179314.
Susan Firer's most recent book is Milwaukee Does Strange Things to People: New & Selected Poems 1979-2007. Awards include the Cleveland State University Poetry Center Prize, the Posner Award, the Backwaters Prize, a Wisconsin Arts Board Fellowship, and the Lorine Niedecker Award. The Poetry Foundation included her poem "Call Me Pier" in its Poetry Everywhere animated poem series, available on YouTube. Two of her poems have been choreographed by Janet Lilly. She was the Poet Laureate of Milwaukee, 2008-10. She edits the Shepherd Express poetry column, available at MilwaukeeExpress.com.
Yvette Viets Flaten's great-grandfather homesteaded in Barron County, Wisconsin in the years immediately following the Civil War, and those roots have proven fascinatingly strong as she researches the location of his 160 acres.
William Ford has two books, The Graveyard Picnic (Mid-America Press, 2002), and Past Present Imperfect (Turning Point, 2006). Two chapbooks, Allen & Ellen, and Descending with Miles are due to be released from Pudding House this year. His good friend, Paul Zimmer (poet and editor), lives in Crawford County. They roam around the Kickapoo River and hit the high spots of Soldiers Grove.
Russell Gardner, Jr. grew up on a central WI farm, lived in many states as an adult, and is back in Wisconsin. Writing poetry (and prose) since college, he also does mixed media visual art and helped originate and then coordinate the Epidemic Peace Imagery project featured in Free Verse #99/100.
Max Garland is a former rural letter carrier from western Kentucky, and the author of two books of poetry, The Postal Confessions, winner of the Juniper Prize for Poetry, and Hunger Wide as Heaven, which won the Cleveland State Poetry Center Open Competition in 2006. His poems and stories have appeared widely. He has received an NEA Fellowship for Poetry, a Michener Fiction Fellowship, a Bush Literary Fellowship, and fellowships from the Wisconsin Arts Board in both poetry and fiction. He lives and teaches in Eau Claire, Wisconsin.
Carmen Germain grew up a free-range child in rural Wisconsin. Cherry Grove published These Things I Will Take With Me in 2008. New Poets of the American West has published her poem about the harrowing experience of sharing Wisconsin roads with deer at dawn and dusk.
Joey Goodall grew up in a small town 20 miles west of Green Bay, went to college at UW-Madison, stayed there for another year, then moved 2000 miles west of Green Bay to Bellingham, WA for a job, where he enjoyed the the mountains and the rain for a year, but is headed back to the Midwest (St. Paul, MN) in the fall.
Amylia Grace is a native Wisconsinite living in Milwaukee. A former MPS teacher, she's now a student, poet and health columnist completing her M.F.A. in Creative Writing. Her poetry has been published worldwide in WordRiot, Conversations Poetry Quarterly, The GNU, Facets Literary Magazineand tinfoildresses. Find more at amyliagrace.blogspot.com.
Australian born poet John Grey has been a US resident since the late seventies. He works as a financial systems analyst. Recently published in Slant, Briar Cliff Review and Albatross, he has been in 49 of the 50 states, including Wisconsin.
Kenneth P. Gurney, a former Shorewood, WI resident, is a Brewers baseball fan and has worshiped at the frozen tundra of Lambeau Field on an offseason Sunday. His poetry appears mostly on the web as he prefers to spend SASE and reading fee monies on pumpkin spice cookies for his Dianne. His latest book of poems is An Accident Practiced.. To learn more about Kenneth, visit http://www.kpgurney.me/Poet/Welcome.html.
Rasma Haidri is a former Madison area resident now living on the Norwegian arctic seacoast. Her writing has appeared in journals including Prairie Schooner, Nimrod, Fourth Genre, Kalliope, The Sycamore Review and Fine Madness and been widely anthologized, most recently in Poem, Revised (Marion Street Press), Not a Muse (Haven Books), Eating Her Wedding Dress (Ragged Sky) and Lavenderia (City Works Press). Among recognitions for her writing are the Southern Women Writers Association Emerging Writer Award in creative non-fiction, the Wisconsin Academy of Arts, Letters & Science poetry award and finalist in the Barry Hannah Prize for fiction and the Elinor Benedict Prize for poetry. Visit her website.
Anne Haines's first chapbook, Breach, was published in 2008 by Finishing Line Press. Recent poems have appeared or are forthcoming in Field, New Madrid, Rattle, and other journals. She works as the Website Editor for the Indiana University Libraries. She has a fairly vivid memory of passing through Madison one summer on the way back from a stay at the Mayo Clinic—though that memory may be pretty thoroughly colored by her painkiller-addled state at the time!
For his first book of poems, Poor Manners (Ahadada Books, 2009), Adam Halbur was chosen the 2010 resident poet of The Frost Place, the Robert Frost homestead in Franconia, New Hampshire. His work has also appeared in the anthology Never Before: Poems about First Experiences (Four Way Books, 2005) as well as in various journals.
Miriam Hall is a poet, writer and photographer living in Madison, WI. She was born and raised in Appleton, WI and has traveled large portions of the world in between living in one or the other of these places. She can be found online at www.herspiral.com.
Shelly L Hall (1958-2010) lived and worked in Waukesha, WI, teaching for local colleges. Her interests included the intersections between music, divination traditions, and poetics. Her third book, Alum, will be published by Popcorn Press in the fall of 2010.
Derrick Harriell received an MFA in Creative-Writing from Chicago State University and is currently a dissertator in English at the UW-Milwaukee where he teaches creative writing. His poems have appeared in various journals, including The Cream City Review, Reverie, and Lamplighter Review and are forthcoming in Main Street Rag. He is a poetry editor for The Cream City Review. His first collection of poems, Cotton, is scheduled for publication (Willow Books- Aquarius Press) in the Fall of 2010.
In between managing the Bartell Theatre in Madison, managing reclaimed woodland near Lake Wisconsin, and managing to keep two cats fed, Sarah Hoover is learning to manage a complex and compelling relationship with words. She grew up in Iowa, and after brief romances with LA and Denver, she came to Madison in 2006.
Eric Huff lives in Kenosha in an apartment that has free heat! (Curse and Blessing.) When Eric is not tucked into a book or writing a line or two one might find him skipping stones into Lake Michigan while enjoying the cool breeze—that is, unless he has finally found an English teaching position. One can only hope!
Tom C. Hunley is an associate professor of English at Western Kentucky University and the director of Steel Toe Books. Among his books are Tom C. Hunley Greatest Hits (Pudding House, 2010), Octopus (Logan House, 2008, Winner of the Holland Prize), Teaching Poetry Writing: A Five-Canon Approach (Multilingual Matters LTD., 2007, New Writing Viewpoints Series), and My Life as a Minor Character (Pecan Grove, 2005). He divides his time between Kansas and Oz.
Catherine Jagoe is the translator of novels from Spain and Argentina; she recently finished translating a memoir about the Arctic from Catalan into English. A member of the Madison poetry group Lake Effect, she is the author of Casting Off, a Parallel Press chapbook. Her poems have been featured on Poetry Daily and A Writer's Almanac.
Clint Jensen is a junior at UW-Madison majoring in English and Journalism. He has lived in Tomah, Wisconsin for his entire life. This marks the first public appearance of his writing.
Martha Kaplan grew up in Seattle, has lived in Minneapolis, Houston and Chicago, and now lives in Madison. Her poetry is influenced by the vicissitudes of landscape, natural and human, and the impact of one on the other. She has published with Branch Redd Review, Möbius, The Poetry Magazine, and Hummingbird, and has poetry forthcoming in Blue Unicorn.
Khristian E. Kay is a storyteller: a teacher/poet. While his work appears political and often satirical he utilizes the words as metaphorical rubber bullets: painful and bruising and only lethal at close range. He is a long time resident of "Lake Country" Wisconsin and prefers cruising Wisconsin's Rustic Roads for poetic inspiration. Visit his website (http://www.khristianekay.com/) for more info.
Jesse Lee Kercheval is the author of eleven books of poetry, fiction and nonfiction including Cinema Muto which won the 2010 Posner Award for Best Poetry Book from the Wisconsin Council of Writers. Currently, she is living in Montevideo, Uruguay working on a nonfiction book, A Year Spent Upside Down.
Claire Keyes is the author of The Question of Rapture, a collection of poems. Her poems and reviews have appeared in Calyx, The Valparaiso Review, and The Women's Review of Books, among others. Although a resident of Marblehead, Massachusetts, she took a memorable drive through lake-filled Wisconsin in the first car she ever owned.
John Koethe is the author of eight books of poetry, most recently North Point North: New and Selected Poems, Sally's Hair, and Ninety-fifth Street, all published by Harper Collins. Ninety-fifth Street is the winner of this year's Lenore Marshall Prize from the Academy of American Poets. He is also the author of The Continuity of Wittgenstein's Thought, Scepticism, Knowledge, and Forms of Reasoning, and Poetry at One Remove: Essays. The recipient of fellowships from the Guggenheim Foundation and the National Endowment for the Arts, he is Distinguished Professor Emeritus of philosophy at the University of Wisconsin-Milwaukee, and lives in Milwaukee.
Anjie Kokan enjoys writing, teaching, and gardening in the Kettle Moraine area where she lives with her husband and two children. Her work was recently featured in an anthology about autism called Gravity Pulls You In.
Michael Kriesel is a poetry reviewer for Small Press Review and his reviews have appeared in Library Journal. He has won both the WFOP Muse Prize and the Lorine Niedecker Award from the Council for Wisconsin Writers. He's been nominated for nine Pushcart Prizes. Books include Chasing Saturday Night (Marsh River Editions); Feeding My Heart To The Wind and Moths Mail The House (sunnyoutside press); and Soul Noir (Platonic 3way Press).
Len Kuntz lives on a lake in rural Washington State with rural sea creatures. His favorite movie is Love, Actually, and his favorite part is when the Brit says "I'm going to a fabulous place in America called Wisconsin." His work appears widely on the web and in print, and also at lenkuntz.blogspot.com.
Jackie Langetieg has three books of poems: White Shoulders (Cross+Roads Press), Just What in Hell is a Stage of Grief, and Confetti in a Silent City (Ghost Horse Press). She is a member of the Wisconsin Fellowship of Poets and regular contributor to the annual calendar.
CutBank awarded W.F. Lantry the 2010 Patricia Goedicke Prize in Poetry and the UMB William Joiner Center named him a runner-up for this year's Ellen LaForge Poetry Prize. Not only is his lawyer from Madison, but Lantry once appeared in Verse Wisconsin, and he has an old colleague named Palmer Nordgren living there somewhere. Please help him find Palmer!
Peg Lauber divides her time and activities between Eau Claire and New Orleans. She and Sandy Lindow edited the 2011 Wisconsin Poets' Calendar.
Norman Leer is professor emeritus of English at Roosevelt University in Chicago. He has published a critical study of the novels of Ford Madox Ford, a chapbook and two books of his own poetry: I Dream My Father in a Song (Mellen Poetry Press, 1992) and Second Lining (Mellen Poetry Press, 1997). His poems and articles have appeared widely. He retired to Madison with his wife in 2007.
John Lehman is the founder of Rosebud magazine and the literary editor of Wisconsin People & Ideas.
Carol Levin is the author of two chapbooks, Red Rooms and Others (Pecan Grove Press, 2009) and Sea Lions Sing Scat (Finishing Line Press, 2007). Her work appears or is forthcoming in The Louisville Review, The New York Quarterly, Avatar Review and many others. She has collaborated in translating Chekhov's plays and some of her poems have been set to music and performed by choirs. She is an Editorial Assistant for the Crab Creek Review.
Pam Lewis is a psychologist, recently retired from U.W. Madison, where she worked for 13 years. She lives in Madison and likes to compare and contrast things like crossword puzzles and poetry.
Sandra Lindow is glad she has finished editing the 2011 Wisconsin Poets' Calendar. She lives on a hilltop in Menomonie, WI, where she teaches, writes, and edits. Presently she is hoping to teach rambling roses to ramble only in designated places.
Colin Lockard was born and grew up in Green Bay before moving to the East Coast for college. He currently lives in Beijing, China, where he teaches at Peking University. He is a graduate of Harvard, where he was awarded the university's Charles Edmund Horman Prize for creative writing. His poetry has been published in the Los Angeles Review.
Ellaraine Lockie's poetry has been anthologized, broadsided, collaged, and now it will be animated on Blue's Cruzio Café. She has published eight chapbooks; the most recent, Red for the Funeral, won the 2010 San Gabriel Valley Poetry Festival Chapbook Contest. She has visited some Wisconsin poets, and some of them have visited her in California.
As a winner of the Carus Publishing Poetry Slam and the NECC Peace Poetry Contest, Devi Lockwood's work has previously appeared in Cicada, Surrounded, and the 2009 NECC Peace Poetry anthology. Recently she had the opportunity to give a reading at the Bowery Poetry Club in NYC to celebrate the re-launching of phati'tude Literary Magazine (www.phatitude.org). Her ex-roommate played softball with a girl from Wisconsin.
Marie Loeffler is a Wisconsin poet, violinist, and private violin instructor who spends most of her free time practicing, writing, reading, and creating. Her poetry publications are current or forthcoming in Echoes, the WFOP Spring 2010 Museletter, and the 2011 Wisconsin Poets' Calendar. Her poetry was first published in Verse Wisconsin #102.
Ross Losapio is a New Jersey native and graduate of Loyola University Maryland. Currently, he attends the MFA program at Virginia Commonwealth University. His work appears in Soundings East, Italian Americana, and Interrobang?! Magazine and is forthcoming in the Summer 2010 issue of Naugatuck River Review. His review of Ned Balbo's chapbook Something Must Happen appears in Issue 103 of Verse Wisconsin.
Jesse Manser grew up in Middleton, attended UW-Milwaukee, recently graduating with a degree in Journalism, and continues to work, write and live on the city's eastside. He is grateful and honored to have a poem published in print for the first time. Other work of his can be found at the Shepherd Express online poetry column, available at www.expressmilwaukee.com.
Tim Mayo's poems and reviews have appeared or will appear in Atlanta Review, 5 AM, Poet Lore, Poetry International, Verse Daily and The Writer's Almanac, among others. He has been a semi-finalist for the "Discovery"/Nation Award. His full length collection The Kingdom of Possibilities (Mayapple Press), was a semi-finalist for the 2009 Brittingham and Pollak Awards and a finalist for the 2009 May Swenson Award, and he was recently named a top finalist for the 2009 Paumanok Award.
Gene McCormick's most recent poetry/short story collections are Tanya, Queen Of The Greasy Spoon (2009), and Rain On The Sun (2008). He has had ten books published, a mix of poetry, short stories, non-fiction, and lives just south of Verse Wisconsin in Wayne, Illinois.
Mark McGuire-Schwartz sometimes imagines that he was raised by bears, and it shows. His poetry and prose has been published in numerous journals, and he is currently developing a new poetic form, called the Seventeen. Mark lives in Guilford, CT.
Barb McMakin writes with Green River Writers. Although she doesn't get out much, she ate some cheese once. Barb's first chapbook, Digging Bones,is scheduled for publication (Finishing Line Press) in September 2010. She is employed by the Oldham County Public Library. Visit her blog.
Richard Merelman took up poetry writing in 2001. Previously, he taught political science and UW-Madison. He was born and grew up in Washington, D.C., and has lived in Madison on and off since 1969. His poems have appeared in journals such as California Quarterly, Free Verse, Measure, and Wisconsin Academy Review, among others.
Patricia Monaghan teaches literature and environment at DePaul University in Chicago and tends a vineyard in Black Earth. She is the author of four books of poetry, most recently Homefront (Word Tech Press). Her chapbook, The Grace of Ancient Land, is coming out this winter from Voices from the American Land. She is Senior Fellow at the Black Earth Institute, a progressive think-tank dedicated to reconnecting environment, spirituality and social justice through the arts.
Middlewestern poet and essayist Tom Montag has lived in Fairwater, Wisconsin, since 1976 and is recently the author of Curlew: Home, Kissing Poetry's Sister, The Idea of the Local, and The Big Book of Ben Zen.
Julie L. Moore is the author of Slipping Out of Bloom (WordTech Editions) and the chapbook, Election Day (Finishing Line Press). Moore is a Pushcart Prize nominee and recipient of the Rosine Offen Memorial Award from the Free Lunch Arts Alliance in Illinois, the Janet B. McCabe Poetry Prize from Ruminate, and the Judson Jerome Poetry Scholarship from the Antioch Writers' Workshop. Learn more about her work at www.julielmoore.com.
Robert B. Moreland was born in Shreveport, Louisiana. He has published two books of poetry with
Karen M. Miner (Eternal not Immortal, 2005 and Postcards from Baghdad, 2008) and in the South Dakota Review and Towards the Light. He resides near Carol Beach on Lake Michigan and the Chiwaukee Prairie.
Richard W. Moyer is 79 years old. He obtained his AB in English at Harvard College in 1953, an MH from University of Richmond in 1976, and an MA in English from Temple University in 2000. His poems are widely published, and he has two books, The Selected Poems of Richard W. Moyer and The Collected Poems of Richard W. Moyer.
CJ Muchhala is a Minnesotan by birth, a Wisconsinite by marriage, and a wanderer by inclination. Her poems have been widely published in various media including Sacred Journey http://www.fellowshipinprayer.com/fip/SACRED%20JOURNEY/ and exhibited regionally in art/poetry collaborations. Muchhala is a Pushcart Prize fiction nominee with work most recently in Pearl 42, the 2010 fiction issue http://www.pearlmag.com/.
Jenny Mueller lives in St. Louis and teaches at nearby McKendree University. Her first book, Bonneville, was published by Elixir.
Gillian Nevers has never lived anywhere but in Wisconsin. It's not that she lacks an adventuresome spirit, she just can't imagine living anywhere else. Well, she might move out of the state, if she could live on an ocean. Her poems have appeared in online and print publications including Millers Pond, Silk Road, Pirene's Fountain and Verse Wisconsin. In 2008, she won second prize in the Wisconsin Academy of Sciences, Arts and Letters Statewide Poetry Contest.
Charles Nevsimal is publisher and editor of Centennial Press, which he proudly runs with his wife, Deborah. Together they adopted the amazing Gianna Mia Rose, who's been with them since her 2008 birth. Charles has received two Pushcart nominations for his poetry and is author of two chapbooks: Risen and The Misadventures of the Paisley Cowboy (both from Desperado Press). His favorite star is V838 Mon.
Robert Nordstrom is a poet, free-lance editor/writer and school bus driver who spends his mornings and afternoons dodging deer while carrying precious cargo over Wisconsin backroads.
Sara Parrell is a poet, writer, and school nurse. She won the Poetry Center of Chicago's 2008 Juried Reading and the Wisconsin People & Ideas 2007 poetry contest, was an invited reader in 2009 for "Celebrating the Body" (an art exhibition at Womanmade Gallery in Chicago), and recently has poems on-line in qarrtsiluni. The Wisconsin River Valley is her root, and she loves nothing better than a slow paddle upstream and giving in to the current to float home.
Kenneth Pobo has a new online chapbook called Fitting Parts (Philistine Press). A second chapbook, Tea on Burning Glass, will soon be published by Tandava Poetry Press. He lived in Wisconsin for six years as a graduate student attending the University of Wisconsin, Milwaukee. Now he and his partner vacation in Wisconsin's Vilas County every spring.
Raised Catholic, Jeff Poniewaz now considers himself eco-spiritual like John Muir. His recent chapbook Polish for Because—Meditations of a Former St. Josaphat Altar Boy (available for $8 postpaid from Inland Ocean Books, P.O. Box 11502, Milwaukee 53211) traces his spiritual evolution.
Christine Poreba, a native New Yorker, has a favorite cozy t-shirt from University of Wisconsin-La Crosse, where her uncle Stanley, whom she once visited in Milwaukee, went to school. She teaches English as a Second Language and is an Associate Poetry Editor for Apalachee Review.Recent work appears in The Southern Review, Potomac Review and is forthcoming from Alimentum, The Sow's Ear, and The Sun.
Transplanted from Cincinnati over 30 years ago, Jean Preston lives with her husband, Tom, and her Scottish Terrier, Maggie. She holds an MFA from the University of Southern Maine Stonecoast Writing Program. By day, she directs the Writing Center at Carthage College and is an Adjunct Assistant Professor of English. By night, she writes, and performs her poetry with a duo called Women of an UN-Certain Age. Her work has been published in the journals Centrique, Pleiades, and The Journal of the Association for Research on Mothering.
Patrick T. Randolph and his soul-expanding wife, Gamze, live in the southern regions of the Midwest. Recently he published his second book of poems, Empty Shoes: Poems on the Hungry and the Homeless. All proceeds from this book go to benefit food pantries and homeless shelters across the country.
Liz Rhodebeck is a poet and freelance writer from Pewaukee, where she is active in the arts community. She is co-editor of the project, "One Vision: A Fusion of Art and Poetry." Liz has recently published her third chapbook What I Learned in Kansas with Port Yonder Press.
Moira Richards lives in South Africa and hangs out here:http://www.darlingtonrichards.com and here: http://www.redroom.com/author/moira-richards.
Erik Richardson is a schoolteacher and freelance writer in Milwaukee. Recent work has appeared in Arbor Vitae, Sein und Werden, and Wisconsin People & Ideas (forthcoming). He won the 2009 & 2010 Gahagan Prize in Poetry and publishes a modest poetry journal for young people: Signs & Wonders.
Ron Riekki's novel U.P. has been one of Ghost Road Press's top ten bestselling books for 75 weeks and counting,http://www.amazon.com/u-p-R-Riekki/dp/0979625564. Gypsy Daughter Press is publishing two upcoming chapbooks entitled Leave Me Alone I'm Bleeding and Poems about Love, Death and Heavy Metal. Riekki grew up in Negaunee, MI, and his family would go to Green Bay for vacation. And none of them were Packer fans, so it even makes less sense when you think about it.
Charles P. Ries's narrative poems, short stories, interviews, and reviews have appeared in over two hundred print and electronic publications. He has received four Pushcart Prize nominations. He is a founding member of the Lake Shore Surf Club, the oldest fresh water surfing club on the Great Lakes. Most recently he was interviewed by Jane Crown for Blog Radio (www.janecrown.com—click on archived shows at the bottom of the page). http://www.literati.net/Ries/
Jenna Rindo lives with her husband, five children, a flock of Shetland Sheep. Rhode Island Red hens and other less domesticated creatures in rural WI. She teaches English to Hmong, Spanish, Vietnamese, Chinese and Arabic students. Her poems have recently appeared in Shenandoah, Wisconsin Poets Calendar and the American Journal of Nursing.
Lou Roach, former social worker and psychotherapist, lives in Poynette. Her poems have appeared in a number of small press publications, including Main Street Rag, Free Verse and others. She has written two books of poetry, A Different Muse and For Now. She continues to do free-lance writing, although poetry is her favorite thing to do.
James P. Roberts continues to travel around wearing his many literary hats. He writes science fiction and fantasy, poetry, literary biography and baseball history. One of his goals is to travel to the "Loneliest Towns in America" in all 50 states.
Kay N. Sanders' work has appeared in Wisconsin Poets' Calendar, Wisconsin Academy Review, Free Verse, Fox Cry Review and in a number of local, regional and national church venues. Her chapbook,That Red Dirt Road, was published by Parallel Press in 2010. She lives in Oshkosh, where she draws inspiration from her own backyard at the edge of the woods.
G. A. Scheinoha dislikes bio notes precisely because they are pretentious. Maybe this comes from a grounded Wisconsin background. Or just his view: the writer isn't as important as the poem. Still, if you must have his curriculum vitae, recent bylines include Avocet, Conceit, Echoes, Fox Cry Review and Wisconsin Poets' Calendar 2010.
Paula Sergi is connected to Wisconsin through fields of common orange day lilies; lakes formed during the Ice Age; unrelenting humidity; cold beer; and hidden baby teeth. Most of this she learned during her childhood and surprisingly, not all that much has changed since then.
A lifelong resident of Wisconsin, Kathleen Serley enjoys all of our seasons: spring gardening, summer beach combing, fall hiking and winter snow shoeing. She teaches English.
John Sierpinski grew up in the Milwaukee, Wisconsin area. He has lived in Wisconsin for all of his life except for a couple of years in California. He currently resides in Franklin, Wisconsin with his wife, Lynn. Recent poetry published in California Quarterly, North Coast Review, Icon, Wisconsin People and Ideas, and the anthology Echoes and Waves (Woodland Pattern Press).
Noel Sloboda lives in Pennsylvania, where he teaches at Penn State York and serves as dramaturg for the Harrisburg Shakespeare Company. He is the author of the poetry collection Shell Games (sunnyoutside, 2008) and the chapbooks Stages (sunnyoutside, 2010) and Of Things Passed (Finishing Line Press, 2010).
Lester Smith is an award-winning writer, game designer, and poet who works as a writer and technologist for Sebranek Inc., an educational publishing house in southern Wisconsin. He is also the current president of the Wisconsin Fellowship of Poets. As time permits, he publishes other writers via Popcorn Press.
J.D. Smith has published two collections of poetry, a children's book, and has a book of essays forthcoming. He was awarded an NEA Fellowship in Poetry in 2007. "First Memory, Wisconsin Dells," is autobiographical. http://jdsmithwriter.blogspot.com
Thomas R. Smith lives in River Falls, Wisconsin, and is a Master Track instructor in poetry at the Loft Literary Center in Minneapolis. His most recent collections are Kinnickinnic (Parallel Press), and a new book, The Foot of the Rainbow, now available from Red Dragonfly Press. He posts blogs and poems on his web site at www.thomasrsmithpoet.com.
Kate Sontag's recent work appears in Prairie Schooner, Seattle Review, Verse Wisconsin, and EXPRESS milwaukee.com. Her work has been featured in Valparaiso Poetry Review and appeared in anthologies such as Boomer Girls, Are You Experienced?, and Sweeping Beauty (U. of Iowa). She is co-editor of After Confession: Poetry as Autobiography (Graywolf) and teaches at Ripon College.
Gregory Vincent St. Thomasino's poetry and prose have appeared in print in OCHO, Barrow Street, and jubilat, among others, and online at In Posse Review, elimae, and at Nthposition. In 2009 he received the Distinguished Scholar Award from the Doctor of Arts in Leadership program at Franklin Pierce University. In his spare time he edits the online poetry journal, Eratio.
Sandy Stark came to Madison in 1969 and found friends, Lake Wingra, the farmers' market, and birding local woods just too good to leave. Finding a community of poets sealed the deal. A book of poems, Counting on Birds, is forthcoming from Fireweed Press.
N. A'Yara Stein is a Romani-American poet and writer living on a chicory farm. She holds an MFA from the University of Arkansas and is a grant recipient of the Michigan Art Council and the Arkansas Arts Council and was the former editor of the arts quarterly Gypsy Blood Review. She's published in America, The New Orleans Review, The Birmingham Poetry Review, The Oxford American, and Poetry Motel among others. Ms. Stein lives near Chicago with her husband and sons.
David Steingass is the author of six books including Fishing for Dynamite, and GreatPlain(RedDragonfly Press, Redwing MN) which won the 2002 Posner Award from the Council of Wisconsin Writers. He is interested especially in technical and stylistic possibilities among lineated poems, prose poems, and flash fiction. Besides reading and writing at his Madison home, Steingass presents writing workshops and residencies in schools.
Judith Strasser (1944-2009) was a member of Lake Effect poets and author of two published collections of poetry, Sand Island Succession: Poems of the Apostle Islands, and The Reason/Unreason Project, winner of the Lewis-Clark Expedition award. She left a last poetry manuscript, Limited Warranty, that is available on her website www.judithstrasser.com for downloading as a PDF or reading online. She also wrote the memoir Black Eye: Escaping a Marriage, Writing a Life and the non-fiction book Facing Fear: Cancer and Politics, Courage and Hope and a blog, In Lieu of Speech, now housed on her website. She co-edited with Robin Chapman the poetry anthology On Retirement: 75 Poems. Judith's work appeared in journals including Poetry, The Kenyon Review, Witness, and Prairie Schooner, and in many anthologies, including What Wildness Is This: Women Write About the Southwest, Jewish Women's Literary Annual, and Poetry Calendar 2007.
Nora Sturges received a B.A. in studio art from Bowdoin College, and an M.F.A. in painting from Ohio University. She has exhibited her work widely in solo shows at the Second Street Gallery in Charlottesville, the Lancaster Museum of Art, the Bachelier-Cardonsky Gallery in Connecticut, Miami University of Ohio, Ventura College, Spaces in Cleveland, School 33 in Baltimore, and the 1708 Gallery in Richmond, among others. Her group exhibitions have included the Delaware Center for Contemporary Art, The Painting Center in New York City, Antioch College, Manhattanville College, Denison University, Maryland Art Place in Baltimore, and Kunstraum Kreuzberg/Bethanien in Berlin, Germany. Sturges lives in Baltimore, Maryland, where she is Associate Professor of Art at Towson University. www.norasturges.com.
Judy Swann's work has appeared in Lilliput, Danse Macabre, Tongues of the Ocean, and Tilt Poetry Magazine, as well as other print and online venues. Her work at The Waters has been repeatedly honored by the judges at the InterBoard Poetry Competition. She is an Iowan who lives in gorgeous Ithaca, NY.
Don Sylvester is a photograher living in Madison, WI.
Bruce Taylor is Professor Emeritus at UW-Eau Claire; his latest collection is Pity the World: Poems Selected and New. He is the editor of eight anthologies including, with Patti See, Higher Learning: Reading and Writing About College. His work has appeared in such places as Able Muse, Light, The Nation, Poetry, and E2ink-1: the Best of the Online Journals. Taylor has won awards from the Wisconsin Arts Board, Fulbright-Hayes, the NEA, the NEH, The Council of Wisconsin Writers, and the Bush Artist Foundation and is the recipient of the Excellence In Scholarship award from UW-EC. Visit his website: http://www.uwec.edu/taylorb/.
Ken Tennessen lives in a corner house around which many poems pass but few are latched onto. An entomologist, poet, Vietnam veteran, whittler, daydreamer, Tennessen explores the hidden relationships between living things and their struggles with the natural world. His poems have appeared in Free Verse, Arbor Vitae, WFOP Museletter, and various newsletters and technical journals.
Len Tews was a biology professor at UW-Oshkosh for 32 years. Upon retirement, he moved to Seattle for 12 years. In the past two years he has moved back to Wisconsin. His poetry has been published widely.
Don Thackrey is retired from the University of Michigan. He has published a book on Emily Dickinson and verse in a number of journals and anthologies. He roots for the University of Wisconsin football team every time it plays the University of Michigan team and he eats cheese and drinks beer—all from Wisconsin.
Alison Townsend is the author of two books of poetry, Persephone in America and The Blue Dress, and two chapbooks, And Still the Music and What the Body Knows. Her poetry and creative nonfiction appear widely, in journals such as Crab Orchard Review, Margie, Rattle, Arts & Letters, Fourth Genre and Southern Review, and she has won many awards, including first place in the Crab Orchard Open Poetry Book Competition, a 2010 Pushcart Prize, publication in Best American Poetry, and literary fellowships from the Wisconsin Arts Board and the Virginia Center for the Arts, among others. She teaches at the University of Wisconsin-Whitewater and lives with her husband on four acres of prairie and oak savanna in the farm country outside Madison.
Diane Unterweger lives and writes (and sometimes runs!) just off of Highway C in Nashotah. Her poems have appeared in Free Verse, Luna Creciente, and UWM's Eat Local/Read Local program. She is currently working on a series of poems about Houdini.
Wendy Vardaman author of Obstructed View (Fireweed Press 2009), is a co-editor of Verse Wisconsin. Visit wendyvardaman.com.
Lisa Vihos worked for twenty years as an art museum educator and is now the Director of Alumni Relations at Lakeland College. Her poems have appeared previously in Verse Wisconsin, and in Free Verse, Lakefire, Wisconsin People and Ideas, Seems,and Big Muddy. She resides in Sheboygan and maintains a weekly blog, http://www.lisapoemoftheweek.blogspot.com/.
Philip Venzke grew up on a dairy farm near Colby, Wisconsin. A fervent zymurgist, his fermentations take many forms. His poems and translations have appeared widely—most recently in Echoes, 2011 Wisconsin Poets' Calendar, Sheepshead Review, Right Hand Pointing, and Thunderclap! Magazine.
Ron Wallace's most recent poetry collections are For a Limited Time Only (2008) and Long for This World: New and Selected Poems (2003), both from the University of Pittsburgh Press. He co-directs the creative writing program at UW-Madison, and serves as poetry editor for the Brittingham and Pollak prize competition. He divides his time between Madison and a forty-acre farm in Bear Valley, WI.
When she is not sailing up the Niger on her way to Timbuktu or trekking the Inca trail to Machu Picchu, Phyllis Wax is in Milwaukee writing poetry.
Marilyn Windau was nurtured on Big Bend farms, in raspberry patches in Fremont, by blue gills from Green Lake, and from books in Madison. Graduating from UW- Madison, she married a civil engineer from Wauwatosa and raised three daughters in Appleton and Sheboygan Falls. She teaches art to elementary school children in Oostburg.
Changming Yuan, twice nominated for a Pushcart and the author of Chansons of a Chinaman, grew up in rural China and authored several books before moving to Canada. Yuan currently teaches writing in Vancouver and has had poetry appear in Barrow Street, Best Canadian Poetry, London Magazine and numerous other literary publications worldwide.
Mark Zimmermann lives with his wife in Milwaukee where he teaches writing and humanities courses at the Milwaukee School of Engineering. Mark's project with lipograms was featured in Free Verse #94.