Water Inspirations at Woodland Dunes
by Kathryn Gahl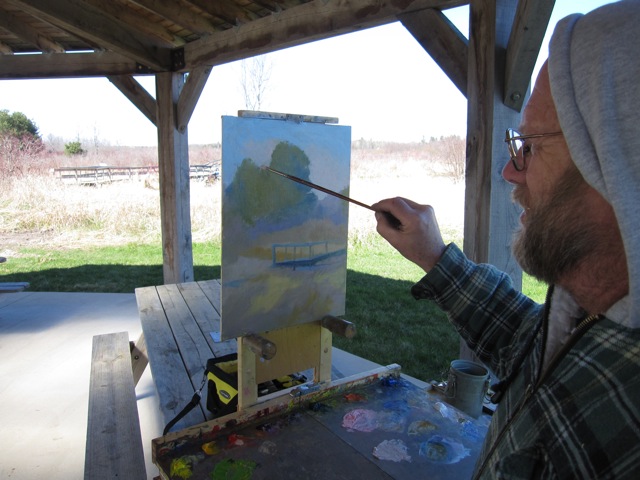 Rob Wasmund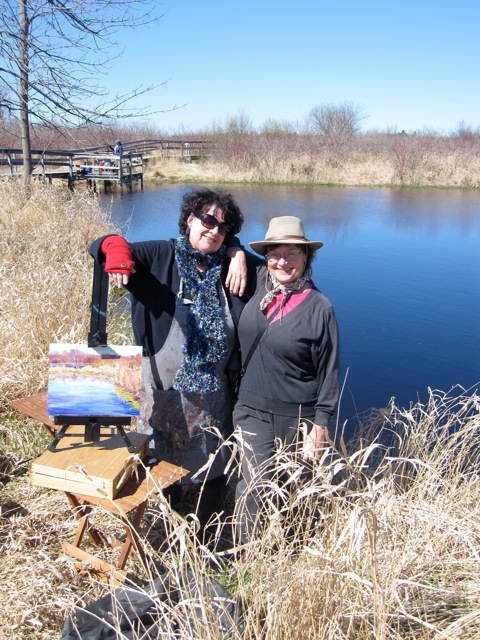 Collette Blum & Bonnita Budysz
"We must take the utmost care and kindness in all things," Joy Harjo wrote. Harjo's words aptly describe a recent event at Woodland Dunes Nature Center and Preserve, Two Rivers, WI.
Water Inspirations: Share The Arts With Bells Ringing featured the kindness of plein air painters, educators, poets, and musicians on a blustery April afternoon. The event, loosely based on a similar event at Woodland Dunes in 2008, explored the bridge between the arts and sciences. When bells rang every fifteen minutes, a different speaker entertained while the audience enjoyed locally made soups, bread, and desserts.
Water Inspirations was the genius of three people: Bonnita Budysz, Jim Kettler,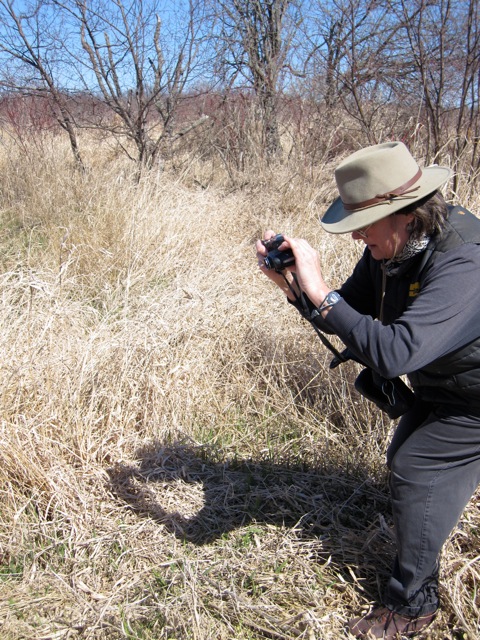 and Jim Knickelbine. Bonnita Budysz, Director of the Water's Edge Artists, paints plein air year round in Wisconsin. She founded the Water's Edge Artists in 2006 to inspire the public about the need to protect and celebrate our waterways. Every month, the artists paint outdoors at different watery locations and at different times of the day, including night. During Bonnita's fifteen minutes, she talked of the special gift of working together, of being who we are, together. Her own works reflect vibrant color, lush luminosity, and bravura brushstrokes. The Water's Edge Artists now has over seventy members who collaborate with the Lakeshore Natural Resource Partnership (LNRP).
Jim Kettler, Director of Lakeshore Natural Resource Partnership (LNRP), envisions a Lakeshore in Eastern Wisconsin where clean water is the norm, fragile ecosystems are protected, and lands are used in sustainable ways. Since 2003, LNRP fostered partnerships to support a balance of land use and natural resource management in the Lakeshore region of Eastern Wisconsin. This region has twelve primary watersheds defined by the Niagara Escarpment; its many rivers, creeks, and wetlands are the focus of LNRP's conservation activities. An upcoming community event on September 22 will be a Chautauqua Tent and a Barn Dance on a Cleveland, WI farm. There is more info at www.lnrp.org.

Jim Knickelbine directs Woodland Dunes, originally formed on ancient beach dunes and wet swales. Today it provides a haven for resident and migratory birds, wildlife, plants, and people. The genesis of the Nature Center at Woodland Dunes began in 1965 when Bernie Brouchoud, a federally licensed bird bander, began catching, banding, and releasing birds. The first land purchase of 40 acres was made in 1974. Today, Woodland Dunes covers 1200 acres and is home for 400 species of plants, 260 species of birds, 40 species of mammals, and 7 species of amphibians.
The Dunes old farmhouse provided a perfect setting for a community event like Water Inspirations. Knickelbine noted that many things distract us today. Our choices mean everything for our future, he added. There is more info at www.woodlandunes.org.
These three organizations—Water's Edge Artists, LNRP, and Woodland Dunes—crafted an April afternoon of art and awareness that began with sixteen of the Water's Edge Artists gathering for a two-day 'paint-out.' Then, on April 7, the artists displayed over forty water-themed paintings at Woodland Dunes, including oils, acrylics, watercolors, and pastels. The artists generously donated fifty percent of painting sales to support LNRP's local environmental stewardship projects. When it was time to ring the bells, the artists joined educators, musicians, and poets to take turns telling stories, giving testimonials, singing, speaking, and celebrating.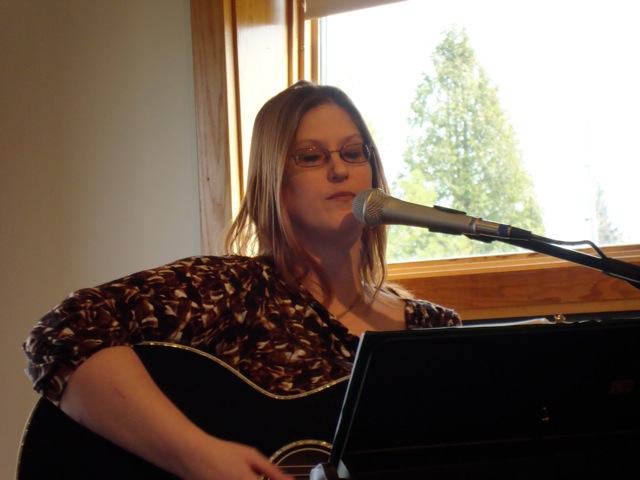 Singer/songwriter Rebecca Markvart brought her singing voice and guitar playing to water songs she composed, such as Getaway:

Waves rush in, cool, wet.
Sand so warm, soon the sun will set.
Salty smell, wind is calm.
Gritty feel in my palm.
Plein air painter Jeffrey Young of DePere said that because he uses his left brain professionally, he took up painting to develop the right brain. He discovered that not only is he good at it, it's fun. Pastel artist Madonna Siles shared how she likes to paint on the lakeside of Door County; she favors Cave Point near Whitefish Dunes State Park. A friend read from Siles' novella, Searching for Surprise.
Jean Biegun, the Woodland Dunes Poet, read during two fifteen-minute segments. She concluded one of her nature poems with
Tree holding ground
Ground holding tree
May something that matters
Hold tight to me
Poet Kathryn Gahl also read during two fifteen-minute segments. At the end of each set, she encouraged the audience to SeeThatPoem when she collaborated with Liysa Callsen, American Sign Language interpreter. Callsen's dancing hands provided a dramatic interpretation of Gahl's Paint Out, a villanelle with the refrain:
Open-air painters gaze happy today,
Water gods of a thousand years at play.
Callsen also interpreted Gahl's long narrative poem about women and water titled, "We All Live On The Water," also available on You-Tube.
Water Inspirations was made possible by a River Planning Grant from The Wisconsin Department of Natural Resources. As such, it served up ethereal images, music, and grass-roots stories as it brought new awareness of climate change, water shortages, and soil fertility. Above all, it underscored that water is the new gold and that community is the silver thread, echoing William Stafford, who wrote
While the earth breaks the soft horizon
eastward, we study how to deserve

what has already been given us.