Wisconsin Poetry News
Cooler by the Lake
Wisconsin Humanities Council Grants
Metro Bus Lines Madison
Niedecker Poetry Inspires Composer and Isthmus Vocal Ensemble
Door County's Peninsula Pulse Annual Literary Issue
---
Cooler by the Lake: the Poets of Mead
A New Tack on Poetry
by Dawn Hogue and Marilyn Windau

The song, "Hot, Hot, Hot," had resonated for a week of 90 degree heat in Sheboygan, Wisconsin. Out on nearby Lake Michigan, sailboats were in irons or crawling downwind with mainsails at right-angles to the boats, hoping for a puff of wind.
On the evening of July 12, 2013, an occasional breeze wafted from Erie Avenue through eight-foot wide wooden doors of a nineteenth century lumberyard office, now a white painted brick edifice: the EBCO ARTworks Building.
Inside it was "Cooler by the Lake," an exhibit of poetry. Voices of twelve local poets reading their words harmonized with and were punctuated by the voices of neighborhood children on the street. Eighty people sat, stood, and listened to the poems of their community members.

It was a novel idea, a new tack on poetry: mounting poems on art gallery walls and displaying them as a visual and verbal feast. Six to eight foot banners promoted each poet's "signature" poem and helped define his or her gallery space. Blues and greens, cool colors of lake and sky, framed three other poems by each poet. The entire gallery space was punctuated by icy blue cloth banners suspended from the ceiling that wavered gently to murmur the breeze of fans.

The initial idea for the exhibit originated with Mary Eckardt, an associate of Tim Ebenreiter, who is the owner of EBCO ARTworks. She knew his mission: to support and promote art from creative people in the community and offer it to the public.
Tim agreed to offer the Mead Library poetry circle use of EBCO's exhibit space. Here was a creative group that would benefit from the space. Here was a creative group members of the community needed to see and hear.
This "dream space for artists" idea pulled Tim out of his garden eight years ago. A sculptor called him. He needed space to create, was ecstatic when Tim pulled off his garden gloves, drove to the building and opened the door. Since then, Tim has opened the door to 67 visual artists and many friends of the arts. "It has grown like Topsy!" he said. "Ideas and creativity flow—no, not flow, erupt!"

Mary Eckardt brought the idea to the Mead Library poetry group. She had sat in on one of the poetry circle sessions. She invited us to display our poems at EBCO Artworks in a gallery setting just as visual artists displayed their paintings.
"We were intrigued," said Georgia Ressmeyer, exhibit planner and featured poet. "Marilyn Windau and I, as co-chairs, chose the poems, with help from Maryann Hurtt. We shepherded the poems through the editing/proofreading/printing process, helped with publicity, and hung the show. It was a lot of work, but the positive response from the poets and the public was very rewarding."

"We wanted the show to be dignified, unpretentious, and consistent in its appearance. The main focus needed to be on the words of the poets," commented Marilyn Windau.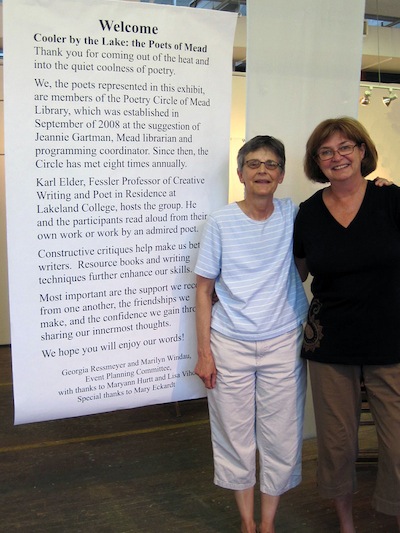 Mead Library in Sheboygan started this poetry circle in September of 2008 at the suggestion of Jeannie Gartman, Mead librarian and programming coordinator. Since then, the Circle has met eight times annually, facilitated by Lakeland College's Fessler Professor of Writing Karl Elder. He and the participants read aloud from their own work or work by a poet they admire. An informal workshop model generally commences with participants adding comments and constructive critiques. This community model helps writers improve. The group also shares resources, and writing techniques to further enhance their skills. Support received from others, friendships made, and confidence gained through sharing innermost thoughts are important benefits of the Poetry Circle.

All twelve poets featured in the exhibit are current or former participants in the Mead Library poetry group. Represented were the poems of Gerald Bertsch, Nancy Harrison Durdin, Karl Elder, Kathryn Gahl, Dawn Hogue, Maryann Hurtt, Mary Kunert, Leighanne Metter-Jensen, Georgia Ressmeyer, Clarke Ross, Lisa Vihos, and Marilyn Zelke-Windau. Several of these poets have been contributors to Verse Wisconsin.
Elder was impressed with the gallery show. "In over four decades of attending readings, conferences, and festivals I've not seen anything like it--an entire gallery devoted to the work of a dozen poets with tasteful displays of their work accented by classy photographic portraits that suggested unique personalities," he said.

Each of the participating poets spread the word and made a financial contribution to help defray costs. Some also baked desserts and assisted with setup and cleanup. Printing expenses were reduced by contributions from the Great Lakes Writers' Festival, GT Graphics, and Great Lakes Blue Prints.

The show opened on Friday, July 12th with a reception of beverages and dessert items. Visitors moved freely from one poet's work to the next, reading the poems and bios, and viewing the photo portraits taken by Mary Eckardt. Pedestals provided space for those poets who brought their published books for sale. Tables and chairs were placed in the gallery for comfort and for the poetry reading which occurred that evening.

Ressmeyer and Windau served as the evening's hosts, and introduced each poet who read two or three poems, including at least one from the exhibit.
The following day the gallery was again open to the public in the afternoon for poetry viewing and refreshments as well.

"I like how the event brought local poets into a public space. With our words on the walls, almost like visual art, we took poetry out of its normal realm and presented it in a way that really resonated with people," Dawn Hogue, one of the Mead poets, said.

"I didn't think I'd ever see my poems displayed in public," said one poet, "It was very gratifying."
Kimberly Johnson, English teacher from Sheboygan and exhibit visitor, said "For me the EBCO poetry exhibit articulated something unique and often overlooked about life in Sheboygan, where despite diverse experiences with a complex world, a down-to-earth gratitude is what sustains our community."
Elder hoped that those "attending the show would experience something close to the astonishment I have sensed over a handful of years as facilitator of the Mead Poetry Circle at the passion and seriousness of these folks for making and talking about poems and for art itself. I cannot help but imagine my hope realized."
Ebenreiter added," I was not just pleasantly surprised at the attendance for this event. I was bowled over! Everyone I talked to was pleased. They enjoyed it."
Poetry displayed on gallery walls, a new tack, seems a fresh idea and on the right course.
---
Wisconsin Humanities Council Funds Poetry Programs
by Shoshauna Shy
Catherine Young of Blue River, Wisconsin attended the Wisconsin Book Festival in Madison one October, entered a bookseller's contest, and won a book by Minnesota poet, Todd Boss. Inspired by his poems, she decided to bring him to the larger community of Viroqua near where she lived. She turned to the Wisconsin Humanities Council (WHC), the founders and former producers of the Wisconsin Book Festival, for help. After working closely with the grant specialists at the WHC, Catherine teamed up with McIntosh Memorial Library and the Driftless Writing Center to submit a grant proposal. Catherine received funding to support a reading/discussion and two workshops featuring Todd Boss in Viroqua, arranged for Bramble Books, a local store on Main Street, to sell his books, and for the ninth grade English class of the alternative high school to host a dinner for him. A B&B provided lodging, and housed other guests who came for the event, while the local grocery co-op, a cheesery and a coffeehouse provided food for the workshops. This program created a memorable weekend in Viroqua for all involved. What could poetry events create in your community?
The Wisconsin Humanities Council contributes to the cultural fabric of Wisconsin by awarding grants to non-profits and ad hoc groups for public humanities programs. These grants are up to $10,000.00 in seven different cycles throughout the year, and giving grants to small communities in Wisconsin is one of our top priorities. In the last two or so years, over $115,000 has been awarded for projects that included poetry-related programming. A few of these recipients were Renaissance Theaterworks, Arts @ Large, Optimist Theater, the Urban Spoken Word Festival, the Tri-County Community Center, and the UW-Waukesha Foundation.
Long story short, we help groups or individuals design their own quality programs and write an application that will enable them to be competitive during the selection process. While we don't fund singular readings, workshops or individual publication projects, the WHC does fund readings and workshops when they are part of a larger program that involves discussion and interaction among the participants. The expertise and assistance we offer can ensure quality programming, and help leverage additional funds for future efforts. For example, after we helped The Friends of Lorine Niedecker in Fort Atkinson get started with their annual festival in 2009, the Poetry Foundation in Chicago—totally out of the blue—bestowed $5,000.00 on them to see it continue.
The WHC has also been a contributor to the Poet Laureate Fund, giving $500.00 each year. In the past, we have offered libraries the reading/discussion series called A More Perfect Union, served as the Motheread/Fatheread provider for Wisconsin, and sponsored a Speakers Bureau program that featured many presentations related to the literary arts.
Learn more about how you can be aided (and abetted!) in providing poetic programming for your community by checking out the WHC grant guidelines at our website, and calling Shoshauna Shy at (608) 262-0706 to get you started. Our funding comes from the National Endowment for the Humanities, and individuals with an affinity for supporting cultural programs in Wisconsin. See the other events and programs that have recently received our financial support by checking out our website.
---
Metro Bus Lines Madison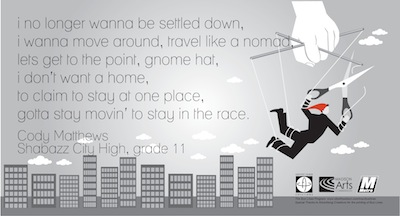 The Madison Metro "Bus Lines" poetry program has featured poems from high school students on bus placards for four years. In the coming year, the program expands to include text and video work of Madison-area residents in middle as well as high school and adults. Deadline November 30. Visit Madison Metro for details about the program and submission information. The eight student winners from 2012 can be read at Metro.