The Last Remake of King Kong: Trailer & Exerpt by David Press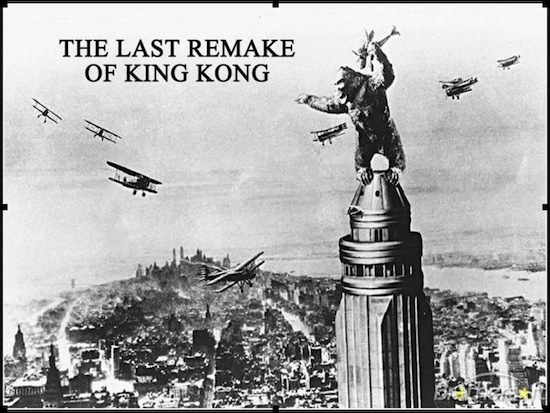 Act II
Scene 1
Noon, the present. As the curtain opens we hear the Kinks' "Apeman."
Lights come up on a cramped living room in an apartment in the Bay View neighborhood of Milwaukee. Even though it is small, the room is filled with plants, although about one third of them are browned and dead or dying. The room also has about six various-sized replicas of the Empire State Building. Empire State Building clock, Empire State Building lamp, a large Empire State Building "statue," and miniature Empire State Building souvenirs.
A small, ratty couch, slight diagonal, faces the audience. Behind the couch to the right is the apartment door. Kong sits on the couch, working a crossword puzzle. He wears reading glasses low down on his nose. There is a small coffee table in front of the couch. A few crushed beer cans and some newspapers on the table. Kong rests his feet on the table.
The actor playing Kong need not be large, and should not wear a gorilla suit. But he should wear something suggestive of ape, maybe an ape arm or leg, a furry catcher's chest protector, or just brown fur jockey shorts.
As the music fades, Kong rises from the couch. He scratches himself, picks up a mister and sprays the plants as we hear the narrator singing the Apeman song off-key.
VOICE OF GOD
I'm an apeman, I'm an ape apeman, I'm an apeman. Oh, we're ready? (clears throat) Ladies and Gentlemen, behold, I give you Kong, the 8th wonder of the world!
As we hear the narrator, Kong finds a Barbie doll behind one of the plants. He looks at it with mild curiosity, then uses it to scratch his back. But then, without even realizing it, he starts pantomiming the action described by the narrator, using the Barbie doll in his clenched fist as Ann. When the narrator finishes, he looks at the Barbie doll quizzically, wondering what just happened.
Holy mackerel! When last we saw Kong he was living behind this huge wall on Skull Island. The island tribesmen kidnapped Ann Darrow, --that bleach blonde he carried around in his fist all the time? The screamer? (Ann, off stage, screams) And gave her to Kong to do with as he pleased. No blondes were hurt in the making of this movie. Then Jack Driscoll (Kong, under his breath: JAACK DRISCOLL!) and Carl Denham rescued Ann, killing several endangered dinosaurs along the way. But who's counting? They used knock out gas on Kong, and get him to New York City, glossing over how they pulled this off not to mention why Kong has no visible genitalia (Kong looks down at himself quizzically). Carl Denham puts Kong in chrome steel chains on a Broadway stage. Slave auction imagery? Let's not go there. Anyway, Kong escapes, squishes many New Yorkers, finds Ann, grabs her, climbs to the top of the Empire State Building, planes fly in, shoot him, Kong falls and holy mackerel! he dies.
A telephone rings. Kong picks it up. He is having a conversation. It is animated, but we can't hear any of it just yet.
Except he didn't really die. Here's what really happened. Five broken ribs, both arms, right shoulder pulverized, left femur snapped, cracked orbital and split skull. Over the course of 18 months, Kong has 24 surgeries. With each surgery his size diminishes, his appearance changes. He looks less and less like a giant ape and more and more like an average overweight guy from Milwaukee. Ann visits him in the hospital every day, and holy mackerel! they fall in love.
And today they share this crappy apartment in Bay View.
Quiet on the set, everybody. Annnnnnnd, action!
We now hear Kong's telephone conversation. He is on the telephone with Carl Denham. We do not see Denham, but we hear his voice.
DENHAM
Holy mackerel, I had a hard time tracking you two down.
KONG
Don't you "holy mackerel" me, Denham. Thanks to you and JAAACK... (deep breath) Drissss (breath) coll, we had to get as far away from New York as possible.
DENHAM
But Milwaukee?
KONG
Just stay away from me, you asshole.
DENHAM
Holy mackerel, Kong. You think I intended things to work out the way they did? I was just making a movie. I needed a giant monkey to wreak a little havoc, stir up some visceral fears of an ape defiling the purity of an all-American blonde, and well, you fit the bill. Sure, I figured a few island tribesmen might get killed, but I didn't intend New Yorkers to get hurt. They were ... whatd'ya call it ... collateral damage.
KONG
But look at me, Denham.
DENHAM
I can't see you Kong. Holy mackerel, we're on the phone.
KONG
Just take my word for it. That ape you wanted? That is not me. It is not me now, and it was not me then.
DENHAM
Not you? Holy mackerel, Kong, everybody plays a role, even a monkey like you. Why, your whole life's been just one role after another. Without a role to play, we ain't nothing. Now listen, have I got a deal for you! Just hear me out.
KONG
This is me hanging up.
DENHAM
Wait! Wait! Picture this. You. Ann. A reality TV show.
KONG
Not interested, Denham. Repulsed actually. I did not fare well in your last production.
DENHAM
But this will be different. Believe me. I been talking to the muckety mucks over at Animal Planet. Sure, they're studio schmucks. But holy mackerel, they say if we do a pilot and they like it, we can get a ten episode deal!
KONG
Animal Planet? Denham, I'm not even an animal anymore. You try Mighty Joe Young?
DENHAM
Mighty Joe's doing porn these days. You know those kids he rescued from the burning orphanage? Rumors he made them sit on his lap. Animal Planet won't touch him. As for your evolution, don't worry. That's what costuming and make-up are for. We'll devolve you.
KONG
Ten episodes?
DENHAM
Yeah. We'll call it "Happy Days with Ann and Kong."
KONG
I don't like the sound of that. How about "The Last Remake of King Kong"?
DENHAM
Say, you might have something there. And the beauty of it is you just play yourself.
KONG
Ann too? You just film us as who we are. Making jokes, watching TV, eating fried curried bananas?
DENHAM
In red sauce? I love that stuff. But we gotta give the people a little more than that. Add some melodrama, a splash of red sauce if you know what I mean. You and Ann have fights. Maybe you invite Jack Driscoll over,
KONG
JAAACK DRISCOLL!
DENHAM
... invite him over for dinner, Ann has too much to drink and she flirts with him.
KONG
JAAACK DRISCOLL!
DENHAM
Then you and Ann have a big fight and she screams.
KONG
She's trying to stop.
DENHAM
Drinking?
KONG
Screaming.
DENHAM
None of that. She's gotta scream. That's what turns the sauce red. Holy mackerel, they'll go nuts, and we'll all be millionaires.
KONG
Don't you get it, Denham? That's not us. Next thing you'll be wanting me to bite the heads off some local poets or something. That's not me anymore. Won't play the part. Not interested. End of story.
DENHAM
But it's not really real. It's just make believe real. Everybody's make believe real, except for whattayacallem, tragic heroes, and even they're just characters who wind up dead in pretty short order.
KONG
We all wind up dead in pretty short order, Denham.
DENHAM
Well, maybe you got something there. But look here, Kong, I read the papers. I know RKO fired you as their Chief Operating Simian. I'm guessing your severance pay ran out months ago, and you got medical bills out the wazoo. Am I right?
KONG
Uh. (beat…beat)
DENHAM
I'll take that for a "yes." Holy mackerel, here's your chance to settle all those debts. What's the real you anyway? What does that even mean?
KONG
It means ...Let me talk it over with Ann.
END ACT II, SCENE I