Three Poems
Wisconsinese
If my state was a tree
I'd be a cheddar branch
eager to leave
fall free real good
like buck's horn in winter.
I am not camouflaged
brat fries, Wal-Mart
thighs and fried wings,
can't sling bullets at deer
and don't drink beer.

I can never fully
detach the last bit of the tick's mouth,
bail hay without breaking
out, don't see a need to shovel near
summer-seared manure.

I don't give a goose
fart on a muggy day
if it's a fountain or bubbler,
free throw or punt. I hunt
plane tickets, not turkeys.

I live to breathe
and don't breathe work,
reach my accent and branches
towards a cloud-covered sun

but you bet a curd
in the beer-cheese soup
the stem of a word
is in its root.

The pause in-between
In a 12th street gas station in
America
a man
Spanish or Egyptian or Greek,
calloused hands and worn jeans,
stands at the counter, fidgets
with the edge of an ad for a tractor.
Pocket-warmed change
buys a pack of cheap mint gum.
He drops a wrapper in the trash
and asks for directions.
"The post office on Alabama and Main?"
The attendant's eyes remain
on the register, white
knuckles on a pen,
and he stands with a sore Springfield shuffle.
"I'm sorry, I can't understand your accent."

The man chews his words and a Wrigley
and turns.
A lone bell rings
as the door shuts behind him.


Fifty Ways to Say America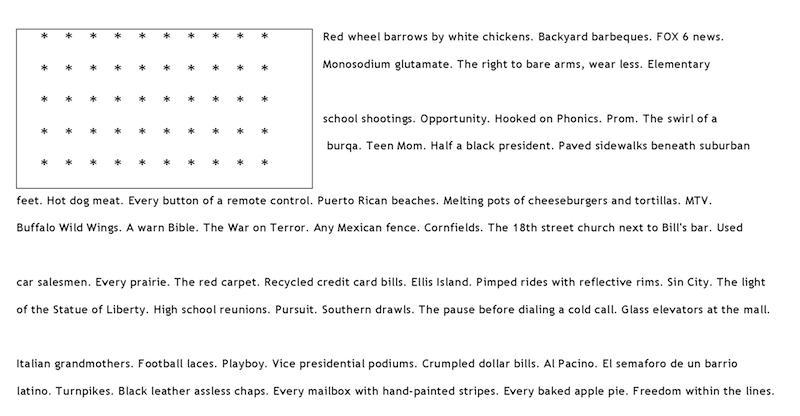 —Andrea Reisenauer, Green Bay, WI