Notes from the Midwest Small Press Festival 2013
& Other Poemshares
by Wendy Vardaman
The 3-day Midwest Small Press Festival in early June brought together a second year of readings, panels, and small independent/micro presses, hosted by a loose collection of publishers in Milwaukee and centered on the Falcon Bowl and other fixtures of the creative and energetic Riverwest neighborhood: Woodland Pattern Bookstore, Riverwest Film, Bremen Café, People's Books Cooperative and more. It's a fun, affordable area, easy to walk the blocks between venues, with decent public bus transportation to the rest of Milwaukee, though the lack of overnight lodging in the neighborhood itself is something of a minus for out-of-town visitors. For someone commuting from Madison as I was, the hours of the panels and readings felt a little late. I stayed for fewer events than I would have if the schedule had begun and ended earlier, especially Saturday night, with readings from 6-11 p.m.
Highlights included the opening reception at Woodland Pattern and the panel on "Collaboration and Multi-modality" with Lane Hall of Overpass Light Brigade, the eclectic mIEKAL aND of Dreamtime Village, and Chicago-based poet Jennifer Karmin; a memorial and tribute reading for Jim Hazard, organized by Keith Gaustad of Burdock Magazine and Radio; and Saturday's book fair in the Falcon Bowl, along with the pop-up readings that took place during the fair. There's something about a surprise reading, single- or multi-voiced and staged as an interruption, that surpasses the experience of sitting in a chair facing a podium, no matter how good the poetry presented that way might be.
What counts as "small press" at the Festival? Unlike pricey venues such as AWP, anyone can purchase cheap table space and display goods, a blessing for volunteer and shoe-string publishers. Verse Wisconsin / Cowfeather Press did that at the first festival in 2012. In 2013 I opted to go to events, talk to people, and experience the festival, rather than park my middle-aged momself & wares at a table waiting for dance partners to (not) come along. (Maybe it was the fact that despite having participated in the founding year, 2012, Verse Wisconsin & Cowfeather Press were not (and are not currently) listed as "PRESSES FROM 2012/2013/FOLKS YOU SHOULD KNOW" at the festival website? Whatever. I have to introduce myself to my kids' friends, too, so I'm used to the idea that I'm going to be ignored.) Featured presses and readers tend to be hipster, Millennial, and Millennial-hipster, with names like Rabbit Catastrophe, Rebirth Ink, Strange Cage, Curbside Splendor, Pitymilk, Plumberries. That's one of the great things about the fest: you get a good sense of the products that young presses produce, their DIY energy, and their aesthetic practices textually, visually, and performatively. A full list of participating presses in 2014 is available at the website, and the links will take you to many interesting sites you likely don't know about.
Besides skewing young, it's an urban crowd with most presses centered on Milwaukee and Chicago, though a few came from outside the region, like Sunnyoutside (Buffalo, NY). It's a mostly white crowd, too, unfortunately, and more bridges need to be built to multicultural publishers and curators. The absence of Minnesota presses was surprising. It would be great to see more diversity of age and race and more representation from other Midwestern states, as well as from smaller towns in future years. The Festival is in the building stage and plans to move around the region. Kansas City will host in 2014.
Why a Midwest Small Press Festival or Midwest-based collectives of writers, poets, publishers? Because the Midwest remains a region that doesn't get the attention it deserves from coastal media and writers. Because collectively Midwest writers and publishers could raise their profile and have shared interests, especially within particular genres and particular aesthetics. Because familiarizing ourselves with work going on outside our preferred aesthetics makes us more aware and hopefully better artists. Because it's great to get to know other people doing similar work and know you're not alone. Because writers should know that for the most part, it's other writers acting as publishers and editors who support their work—there's no industry or institutional support for most of us. Because in a state like Wisconsin where public support for the arts is mostly non-existent, we have to do everything we can to hang on, and one of the things we can do is organize, attend, and purchase the work of other small-press poets and writers. Because a handful of things from a small press fest makes a great display/show & tell for an event. Because it will give you ideas. Because you will find new people to talk to.
Although I came back with a couple of regular trade books, many of which could be purchased at the festival, here is a small selection of interesting and unusual material from close to home and farther away: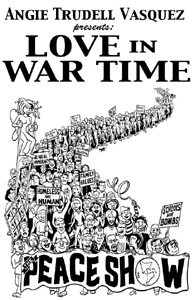 Art Night Books (Milwaukee)

Love in War Time by Angie Trudell Vasquez. A full-length book of poems that looks and is priced like a chap with a staple binding. Several of the poems appeared first in Verse Wisconsin. Vasquez's poetry is personal, accessible, outward looking, spirited, activist. The poems span a period of about ten years and are divided by her location in Seattle and then in Milwaukee. You can read Vasquez's poem "Swan Lake" here or read about her work on the Latina Monologues, several poems from which are in the book.
Cannot Exist (Madison)

Form 15 // After bpNichol's Journal 3 by Jordan Dunn is a clever 17 x 11 inch visual poem/broadside by Dunn with words laid out on text paths (if you do Adobe Illustrator) superimposed on a map of Madison.

The following five chapbooks were published just in time for the festival, and Andy Gricevich of Cannot Exist was in fact stapling them at the table. Each of the five is a small, interesting collection of work by authors newer and established, all five worth reading:
Paul Baker's I=M=P=L=A=N=T
Rick Burkhardt's The Foreground
Inferno, Dante Alighieri, by Kevin Ducey.
from Franklinstein by Susan Landers
how we know who we are by Anna Vitale
I was especially taken by Landers' from Franklinstein, which is a place-based meditation on Germantown, a neighborhood in Philadelphia with a history, "a place about which some has been written/and some has been not/and people have very strong feelings….The birthplace of pushpins and Louisa May Alcott./Where addicts stole drain pipes for copper for crack." It's a story of occupations old and ongoing, of maps and mapping, of the occupation of maps and the mapping of occupation:
…there was a burning. A burning at my uncle's house after he sold his house to someone who didn't look like him….It was around the time of the burning that all of my father's brothers and all of my mother's sisters drove all of their children to houses next to houses of people who looked like them….it's likely that if my father had more money or less children or a car or a different religion or a desire to change or a desire to not change or a greater or lesser desire to keep everything exactly the same we would have flown away the way others who looked like us did but these things were not discussed or explained and we didn't and I am explaining that.
Columbia College Chicago Center for Book and Paper Arts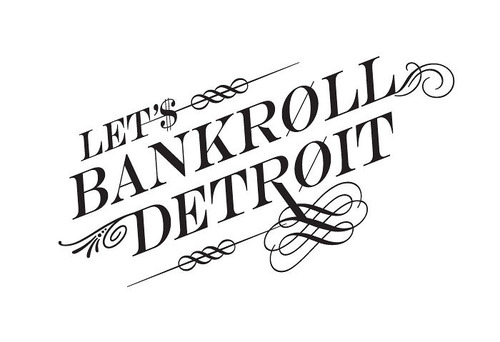 Let'$ Bankr0ll Detr0it: a fantastic micro-book with 3 specific ideas for how to make Detroit (and other places) financially solvent, involving time, money, and words: "Words matter. I celebrate Detroit, I represent Detroit & spread the good news about Detroit wherever I go." Having recently been to East Lansing for a conference where I learned more about the energetic local poetry scene in Detroit, I especially appreciate this strategy.

5th International Book & Paper Arts Triennial, a small, beautifully designed catalog of book and paper related arts displayed in this exhibit of world artists.
Convulsive Editions (Chicago)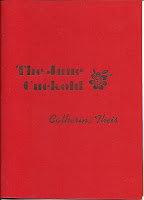 the june cuckold, a tragedy in verse by Catherine Theis, 2012. A small, paper-covered hand-stitched chap. I'm always looking out for contemporary verse drama and this one is decidedly non-iambic pentameter (though meter makes an appearance) and wonderfully nonsensical, with a small cast of characters and an insect chorus: "Would you chive butter feed me?/Butter my chops/Chestnut horsey play/This is not real science…"
Plumberries Press (Milwaukee)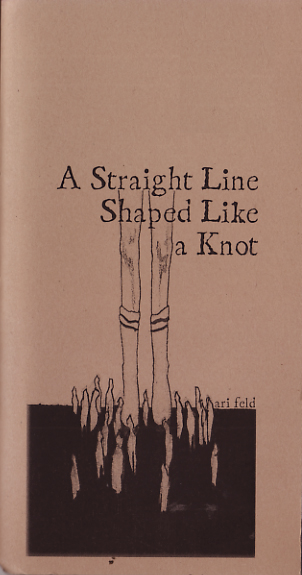 A Straight Line Shaped Like a Knot by Ari Feld, illus. by Amanda Huff, 2013, a beautiful, hand-sewn book, poetry and prose. Sensible nonsense: "I was the one in yellow socks under the butcher's awning. There was an office on the second floor with a stuffed jackal in the window and a disheveled attorney exhorting someone in a lavender bathrobe to find those petunia pies. There were crates of wilting lettuce. A woman held a headache to her head."
Totem by Chelsea Tadeyeske, images by Erin Case, 2013.
Tadeyeske's work is fun and fresh, as is Plumberries, published by Edwin R. Perry and Tadeyeske. The digitally collaged illustrations are surreal and work well with the text.
Woodland Pattern broadsides (Milwaukee)

"Gothic songs" by Catherine Wagner and "The Most Obvious Thing in the World" by Dana Ward. What a wonderful idea to have a printed take-away from a reading. These are beautifully produced by Chuck Stebelton. Wagner and Ward were featured readers at the festival Friday evening. I especially enjoyed Wagner's hipster-funny persona, one part smart, one part lost—I don't know as reading the poems really replicates her performance, though they certainly invoke it. "Not drunck at all Another fucking lyric Amtrack Hudson-Penn" begins: "if you are in exactly / The same mood as me/ When you get this/ The poem is a fascist."
Though you can collect interesting books and poemalia there, the festival is above all an experience, and it's an experience you should consider having wherever it lands around the Midwest in future years, especially if you're lucky enough to have it pop-up nearby.
---

About the same time that I went to the Midwest Press Festival, I also received a number of books, pamphlets and other interesting pieces of smallania that taken together have a lot to say about how to share poems. Some of these are generally available, either online or by mail, others are just fun, handmade ways to pass around poems.
Eat Local Read Local celebrates "local authors and local food each April during National Poetry Month" with poems published individually by the Creative Writing Program at the UW-Milwaukee. This elegant, but inexpensively produced set of cards has been created and shared to customers through restaurants in Milwaukee and Madison for several years.
Eberhardt Press, Janebill, "Keesha and Joanie and JANE" by Judith Arcana, 2013, is an incredibly clever, important story based on Arcana's experience as a JANE in a pre-Roe abortion underground.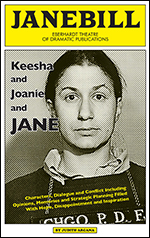 The "Janebill" is a parody of a playbill, complete with ad pages, and the point is, as Arcana says in her introduction, that "We need to learn and re-learn the history of the struggle for conscious motherhood. We need to know what has been, to be able to imagine what might be." Arcana's hope is that her JANE stories may be made into movies, tv, and plays. Arcana's work is part of the ongoing struggle for reproductive health and justice in the U.S. Find out more on the JANE page at Arcana's website, juditharcana.com, or the Facebook page. This story is one of several in Arcana's book, Hello, not yet published.
eMTeVisPub/Matthew Stolte
Matthew Stolte produces his own issues of eMTeVisPub, sometimes as full-sized issues of visual poetry that he sells, sometimes as very small, limited edition books, of which these three were examples in 2013:
From Leakey, bits of a letter from Louis Leakey to Jane Goodall, collaged with images
From the Sea, found poems and visual poems
A Que Daña, with John M. Bennett, Luna Bisonte Prods, 8 visual poems printed on an 8 ½ x 11 sheet and folded.

I'm always impressed by Stolte's ideas for sharing his work and the collaborative process/partnerships he is part of, as well as the work itself.
Haiku from the House of the Red Dragon is a free collection of short poems deposited in a little "haiku house" in Mineral Point. Pencils and note cards await you in the free-standing, mailbox-like depository, and you may leave your finished haiku there. This pamphlet collected about 50 mostly unsigned poems that had been deposited at the House of the Red Dragon over what looks like one year, as many writers mention the season.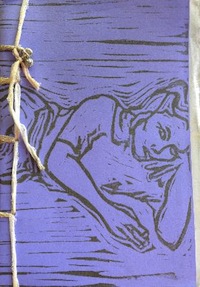 Red Mare 7, The Lava Storyteller, by Cristina M.R. Norcross. A beautiful handmade book, this one is copy 21 of 40. Each cover is individually printed, and each copy hand sewn. The cover is printed on Canford artist's paper, endpapers are Unryokozo/chiri rice paper, the binding knot is finished with bells. The title poem, "The Lava Storyteller," was originally published in the November, 2011 issue of Verse Wisconsin. Read a review of the chap in this issue.
Wolfsong Publications/ Gary Busha
Three more 4 ¼ x 3 ¾ inch stapled books of haiku—the first of this series, On the Dock, was reviewed in VW 111. Rhyme Tyme follows with poems from the 1960s. Canoe Haiku and Frog on the Bay are the third and fourth books in this small and simply made series of Busha's decades of haiku writing, available from the author, gbusha@wi.rr.com for $5 each. Read an essay by Busha in this issue about his experience in the small press.
Wendy Vardaman (wendyvardaman.com) is the author of Obstructed View (Fireweed Press), co-editor of Echolocations, Poets Map Madison, co-editor/webmaster of Verse Wisconsin (versewisconsin.org), and co-founder/co-editor of Cowfeather Press (cowfeatherpress.org). She is one of Madison, Wisconsin's two Poets Laureate (2012-2015). Twitter: @wendylvardaman. Tumblr blog: live art(s) art live(s).