Events
Upcoming Presentations & Readings
with Co-Editors, Sarah Busse & Wendy Vardaman

April 27, 2013
Wisconsin Fellowship of Poets Spring Conference
Oconomowoc, WI
Panel participants.
May 9-11, 2013
Society for the Study of Midwestern Literature
East Lansing, MI
Panels & readings.
June 23, 2013, 1-4
Olbrich Gardens
Madison, WI
21st Annual Marathon.
---
Event Archive
Helping Our Poems Grow Up: Finding a Place for Our Work in the World
December 3, 2012
Harmony Cafe
Appleton, WI
Reading with Sarah Busse & the 2013 Wisconsin Poets Calendar
November 7-11
Wisconsin Book Festival
Madison, WI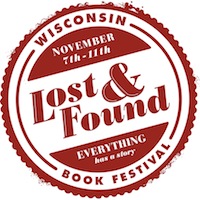 Verse Wisconsin, in partnership with Black Earth Institute, Wisconsin Fellowship of Poets, UW Creative Writing Program, and UW Office of Multicultural Arts Initiatives (OMAI/First Wave), brought Kentucky poet-artist-publisher-activist Frank X Walker to the Wisconsin Book Festival, Madison, for six free events, including two panel events/conversations: "First Wave: Performance Poetry and the Personal Narrative" and "The Creative Side of Publishing." In addition VW sponsored the panel: "Finding Poetry in Unexpected Places," a conversation about putting poetry before the public effectively.

The Wisconsin Book Festival is a free, five-day program of public events that takes place every Fall in downtown Madison. It is the state's largest literary festival, drawing thousands of attendees annually.
June 16


Southeast Wisconsin Festival of Books
UW-Waukesha
Waukesha, Wisconsin
Poetry on Main Street
The special Main Street Issue of VW gave those close to the Wisconsin protests a chance to speak up in a creative venue. It also raised questions about what poetry is for, artistic excellence and immediacy, who gets to speak about what and when, and the relation of art and politics. Discussion of the project, including panelists' evolving view of the significance of poetry and poets in public discourse, the role of the political in their work, and their vision of poetry's relation to politics. How can we more effectively put political poems, as well as poetry in general, in public places? What are some ways for poets and lovers of poetry to effect change? How can we write better political poems? What is a "political" poem?
June 1-2
First Annual Midwest Small Press Festival
Milwaukee, Wisconsin
May 20, 1-4
Olbrich Gardens
Madison, Wisconsin
20th Anniversary Wisconsin Fellowship of Poets' Invitational Marathon
April 15, Atlas Coffee Mill
Fox Cities Book Festival
Appleton, Wisconsin
Publisher's Panel, 12:30, & Poets Laureate Readings & Conversation, 3:00
February 11, 1:30-3:30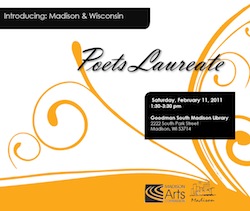 Goodman South Madison Library
2222 S Park St
Madison, Wisconsin

Laureates Inaugural Reading & Reception
November 10, 7 pm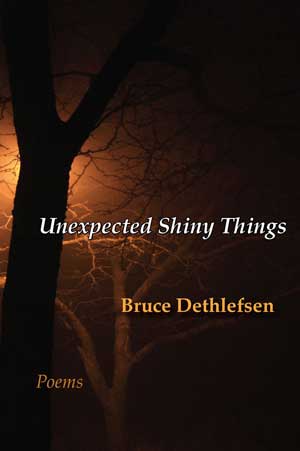 Avol's Bookstore
Madison, Wisconsin
Launch reading & party for Unexpected Shiny Things, by Bruce Dethlefsen, Cowfeather Press, a project of Verse Wisconsin.
October 23
Wisconsin Book Festival
Madison, WI
12-1:30 Voices of Verse Wisconsin
Panel discussion & reading from VW's Main Street Wisconsin Issue,which collects poems from the Wisconsin protests. Discussion ofwhat poetry is for, artistic excellence and immediacy, who gets to speak about what and when, and the relation of art and politics.
October 15
Lorine Niedecker Wisconsin Poetry Festival
Fort Atkinson, Wisconsin
Nature of Wisconsin Poetry
An overview of the state of Wisconsin poetry. How are poets and poetry best supported and what improvements might be made? Are there divisions separating poets that should be bridged? How should good writing be encouraged to raise the bar in general, and raise the profile of Wisconsin poetry nationally, even internationally? Discussion, questions, and maybe even answers.
Three readings with participants to celebrate Poetry Month & the Jawbreaker Project, with Poetry Jumps Off the Shelf!
March 17th, 2011 7:30-9 pm
Crosshatxh Reading Series
Rainbow Bookstore, Madison
The Poetry Duos Show, with Rita Mae Reese & C.E. Perry, Wendy Vardaman & Sarah Busse, and the Writers in Prison Project.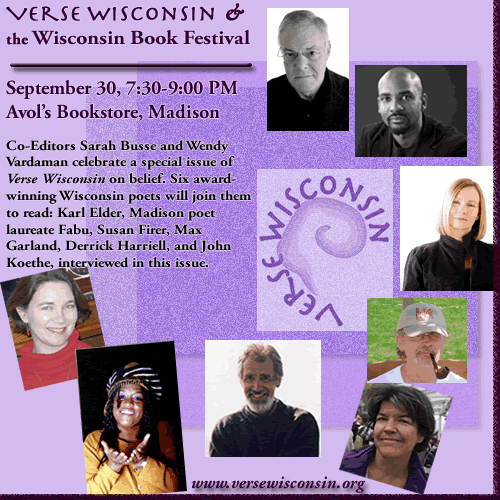 September 30th, 2010 7:30-9 pm
Wisconsin Book Festival
Avol's Bookstore, Madison
Reading with co-editors & Wisconsin poets Karl Elder, Fabu, Susan Firer, Max Garland, Derrick Harriell & John Koethe.
The Ludington Building
Columbia College Chicago
1104 South Wabash Avenue
6:00 p.m. to 11:00 p.m.
Annual celebration of print opens its doors to digital media. We're not presenting here, but Verse Wisconsin will participate.
Panel discussion: "Reading, Writing & Publishing Poetry in the E-text Era" Friday, June 18, 4:00 p.m.
Tribute to Wisconsin Poetry: A reading by Sarah Busse & Wendy Vardaman, 7:30 p.m. in the Caestecker Art Gallery.
A sampling of poetry with connections to Wisconsin, free and open to all, followed by a reception and book signing.

March 20th, 2010, 7 pm
Verse Wisconsin Launch, with VW authors, editors & advisors
Avol's Bookstore
Madison
March 19th, 2010, 7-8:30 pm
Verse Wisconsin Launch Reading,
with Todd Boss & Wendy Vardaman
Woodland Pattern Book Center
Milwaukee

Poetry reading and discussion of the magazine
"The New Free Verse"
Publishers Roundtable Madison Public Library-Main Branch

Discussion by editors & publishers from independent poetry presses in Wisconsin on the topic of "Starting & Sustaining the Small Press." We

will talk about ourindividual experiences, why we do what we do, why it matters, what we look for in the work we publish, why publish the chapbook, how individual small presses differ from one another as well as what they have in common, and what it takes to make this leap of faith! Publishers will bring books and other work samples, and be available to answer questions and to talk to authors individually after the discussion.
Participants include: Centennial Press, DesperadoPress, Fireweed Press, Little Eagle Press, Marsh River Editions, Mobius, & Popcorn Press
Publishers Roundtable Library Rogers Room

Poetry editors and publishers from around the state will gather to discuss how to support the business of poetry publication. A Q&A session will follow. Further tips and connections are encouraged at the Poetry Cafe.
Moderators - Sarah Busse and Wendy Vardaman, with Rod Clark (Rosebud), Karl Elder (Seems), Madison Poet Laureate Fabu (Madison Magazine), Shoshauna Shy (Woodrow Hall & Poetry Jumps Off the Shelf), Jason Smith (Wisconsin People & Ideas), and Henry Timm (Penninsula Pulse).
Reading by Sarah Busse and discussion of the magazine
Questions welcome. Open mic to follow.