Events—Upcoming Presentations & Readings
Verse Wisconsin & Cowfeather Press
Forthcoming, September, 2014, in print & Kindle editions!
I Didn't Know There Were Latinos in Wisconsin: Three Decades of Hispanic Writing, edited by Oscar Mireles
Please join us for these Fall, 2014, launch events:
Wednesday, September 10

,

5:30 pm,

Madison Central Library (Latino Art Fair) Pre-order!

Sunday, September 28, 2 pm

,  (official release and book signing), Madison Central Library, Room 301

Saturday, October 4, 7 pm,

 Woodland Pattern Bookstore, Milwaukee, Wisconsin

Wednesday, October 15, 5 pm

, La Casa De Esperanza, Waukesha, Wisconsin
---
1/12 - 3/8/2015, Loft Literary Center, Creating Your Chapbook, Online course with Sarah Busse & Wendy Vardaman
Start with a stack of poems and create a chapbook! Along the way we'll ask, what makes a manuscript complete? How do individual poems fit together? How do we decide what to include, what to leave out? And not least, how do we decide where to submit, how to publish in the twenty-first century?
April 8 - 11, AWP (Association of Writers & Writing Programs) Annual Conference, 2015, Minneapolis, Two Panels
Diversity & Community: A Midwestern Poetics to Move Us Forward. (Wendy Vardaman, Margaret Rozga, Brenda Cárdenas, Kimberly Blaeser, Fabu Carter)
Five poet-educator-critic-editor-activists discuss practical strategies to create inclusive, dynamic poetry communities. Focusing on local realities and revealing regional complexity, we present counter-narratives that our work emerges from and generates: historical, economic, geopolitical, multilingual, multicultural, artistic. Recognizing a range of aesthetic possibilities for poetry and poetic activism, we examine common goals: equity, access to social and artistic spaces, meaningful lives.

Being Poet Laureate: City Laureates on Civics, Outreach, and Public Poetry. (Laurie Ann Guerrero, Diane Raptosh, Sarah Busse, Kathleen Cerveny, Thom Caraway)
Increasingly, cities are instituting Poet Laureate positions to help raise the public profile of the arts. Several new and established poets laureate, representing Boise, Madison, Cleveland Heights, San Antonio, and Spokane, explore the programs and activities each is doing in their city. Panelists will also discuss the responsibilities of the civic poet, the challenges laureates face in their respective places, and opportunities the positions afford to poets across the country.
May 17, 2015, 1-4, 23rd Annual Olbrich Gardens Poetry Reading, Madison, in partnership with Madison's Poet Laureate Program & the Wisconsin Fellowship of Poets
---
Event Archive
June 29, 2014, 1-4, 22nd Annual Olbrich Gardens Poetry Reading, Madison, in partnership with Madison's Poet Laureate Program, Verse Wisconsin, & the WFOP
March 10-April 30, Dane Co. Lakes & Watershed Commission, Photo & Poetry Exhibit, Beyond the Water's Edge, Lussier Community Center, Madison
Fall-Spring 2013-14, Loft Literary Center Online Class, POETRY PLUNGE: A POETRY AND PUBLISHING WORKSHOP, beginning October 14 (6 weeks); Part 2 beginning March 17 (6 weeks)
November 1- December 30, Dane Co. Lakes & Watershed Commission, Photo & Poetry Exhibit, Beyond the Water's Edge, Goodman South Madison Library, Madison. Opening reception & reading Nov. 2, 1:30-4.
December 12, 2013, 7 p.m., Crescendo & Mystery to Me Bookstore, Madison. Echolocations Poets Map Madison event on Monroe St!
November 30, 2013 Bus Lines Poetry Call~Poems Due ( Madison area poets)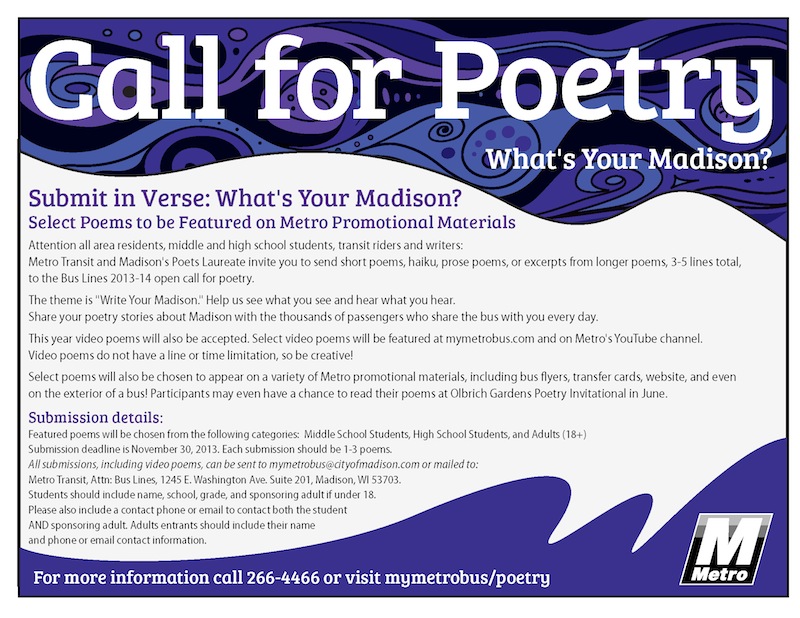 November 23, 2013, 1-4 p.m., Launch Party for Echolocations, Poets Map Madison, Cowfeather Press, Central Library, Madison
November 7-24, 2013 Forward Theater Company, Madison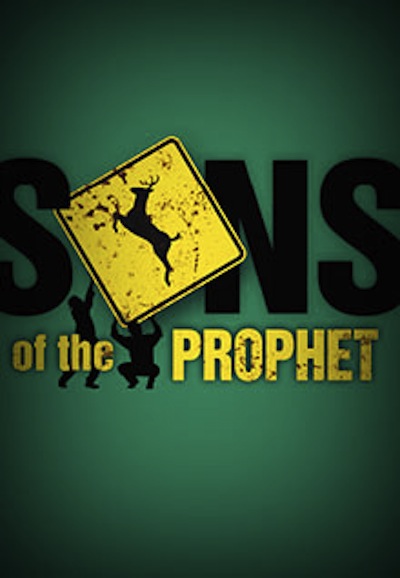 Poems At the Playhouse, Poets respond to The Prophet, in conjunction with FTC's Wisconsin premier of Sons of the Prophet, by Stephen Karam, selected poems will be on display during the performance run, conversation, scenes & reading with actors & poets at the Wisconsin Book Festival.
November 7-10, Midwestern MLA - Festival of Language Panel, Milwaukee
October 26, Wisconsin Fellowship of Poets Fall Conference, Stevens Point
Putting Together a Book Manuscript.
October 24, 6:30-9 pm, Wisconsin Historical Museum, Madison
"Poetry of the Prophet," performance by Forward Theatre, poetry reading, and dinner. Call 608-264-6555 or visit shop.wisconsinhistory.org to reserve your space by October 17.
October 17-20 Wisconsin Book Festival, Madison
Oct 18, 5:30-7 p.m. with First Wave & OMAI, Overture Center for the Arts

Poetry and Performance were once a united art, going back to common ancient roots. This event brings "page" poets and "stage" poets together across multiple divides: page /stage /class/ race/ gender/age. With poet responders Timothy Yu, Margaret Rozga,Amaud Jamaul Johnson, Andy Gricevich, and Ching-In Chen, poets from First Wave, and OMAI guest, Gia Scott-Heron.

Oct 19, 12 p.m. with Forward Theatre Company, Overture Center for the Arts

Forward Theater Company will open their 2013-14 season with the Wisconsin premiere of Sons of the Prophet by acclaimed playwright Stephen Karam. A dark comedy about one family's ability to withstand a hailstorm of misfortunes, the play's main character is a distant relation of Lebanese-American poet Khalil Gibran, author of The Prophet. To complement the production, Verse Wisconsin invited Madison-area writers to create original poetry in response to the play's source material and subject matter. Get a taste of FTC's opening production and hear the poetry it inspired.

Oct 20, 11:30 a.m., Public Poets Conversation, with Max Garland, Dasha Kelly, Margaret Rozga, and Sofia Snow, Central Library

Poetry doesn't only happen on the page or in the garret, but unlike public art, "public poetry" can sound contradictory, unnecessary, mysterious, or downright dull. What's the point? Join Madison's Poets Laureate as they host a conversation around what it means to be a "public" poet. What counts as a "public" poem? What do "poets laureate" do? What could they do? What's a "Young Poet Laureate" and should Madison have one? And what does the idea of a laureate position look like when we place it in a broader cultural, civic and artistic context? What do poets laureate and political poets and hip hop and spoken word artists have in common? How can traditional poetry and spoken word come together in the public square and should they?
October 5-13, "Pass Words" road sign poems on Wormfarm Institute's Fermentation Fest & Farm Art DTour, Reedsburg
September-October—3 Cowfeather Reading Parties
Celebrating the summer publication of Luz de Todos los Tiempos / Light of All Times, by Moisés Villavicencio Barras & Sister Satellite, by Cathryn Cofell:

September 8, 2 p.m., The Kangaroost, Kaukana
October 6, 1:30-3:30 p.m., Central Library, Madison, with music by Quishuar Essence
October 11, 7 p.m., Woodland Pattern Bookstore, Milwaukee
September 28, 2013, 1 p.m., Goodman South Madison Library,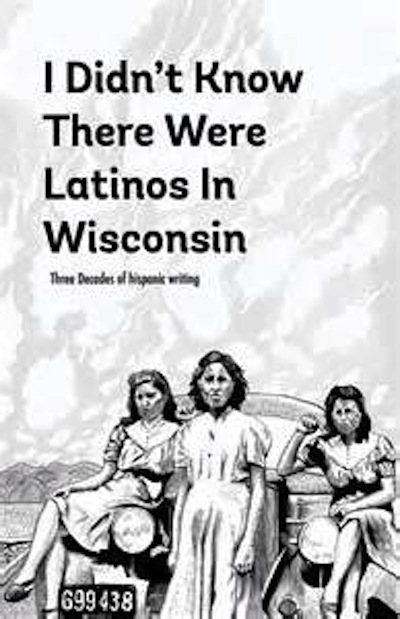 Madison, Reading Party & Submission Event [a 100,000 Poetsfor Change event]
Poets, Oscar Mireles, Faustina Bohling and Gladis Benavides will read poetry from the upcoming anthology I Didn't Know There Were Latinos in Wisconsin (3rd Edition, Ed. by Oscar Mireles, forthcoming, Cowfeather Press, 2014).
September 21, 2013, 10:45-11:45, Southeast Wisconsin Book Festival,Waukesha, B.J. Best, Sarah Busse and Cathryn Cofell
June 14, 2013, 6-11 p.m., URI-EICHEN Gallery, 2101 S Halsted, Chicago
OPENING RECEPTION: Battles in the State Capitols-The Right to Have a Union-Wisconsin, Indiana, Michigan, Ohio- Art, Poetry, Posters, and Stories
June 15, 2013, 1-5 p.m., Land, Food & Transformation: A De-Composium,
Aldo Leopold Legacy Center, E13701 Levee Road, in Baraboo, Free
presented by Wormfarm Institute, The UW-Madison Center for Integrated Agricultural Systems, Verse Wisconsin and the Aldo Leopold Foundation.


June 23, 2013, 1-4
21st Annual Olbrich Gardens Invitational Poetry Marathon Reading, Madison, in partnership with Madison's Poet Laureate Program, Verse Wisconsin, & the WFOP
May 9-11, 2013
Society for the Study of Midwestern Literature
East Lansing, MI
Re-Imagining the Region: New Voices and New Audiences in Midwestern Literature: "Working Towards Definition through Diversity" and "Voicing the Map: Creating Place Through Poetry"
March 23, 9 am-2 pm
AllWriters' Workshop
Waukesha, WI
Helping Our Poems Grow Up: Finding a Place for Our Work in the World
December 3, 2012
Harmony Cafe
Appleton, WI
Reading with Sarah Busse & the 2013 Wisconsin Poets Calendar
November 7-11
Wisconsin Book Festival
Madison, WI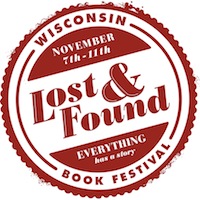 Verse Wisconsin, in partnership with Black Earth Institute, Wisconsin Fellowship of Poets, UW Creative Writing Program, and UW Office of Multicultural Arts Initiatives (OMAI/First Wave), brought Kentucky poet-artist-publisher-activist Frank X Walker to the Wisconsin Book Festival, Madison, for six free events, including two panel events/conversations: "First Wave: Performance Poetry and the Personal Narrative" and "The Creative Side of Publishing." In addition VW sponsored the panel: "Finding Poetry in Unexpected Places," a conversation about putting poetry before the public effectively.

The Wisconsin Book Festival is a free, five-day program of public events that takes place every Fall in downtown Madison. It is the state's largest literary festival, drawing thousands of attendees annually.
June 16


Southeast Wisconsin Festival of Books
UW-Waukesha
Waukesha, Wisconsin
Poetry on Main Street
The special Main Street Issue of VW gave those close to the Wisconsin protests a chance to speak up in a creative venue. It also raised questions about what poetry is for, artistic excellence and immediacy, who gets to speak about what and when, and the relation of art and politics. Discussion of the project, including panelists' evolving view of the significance of poetry and poets in public discourse, the role of the political in their work, and their vision of poetry's relation to politics. How can we more effectively put political poems, as well as poetry in general, in public places? What are some ways for poets and lovers of poetry to effect change? How can we write better political poems? What is a "political" poem?
June 1-2
First Annual Midwest Small Press Festival
Milwaukee, Wisconsin
May 20, 1-4
Olbrich Gardens
Madison, Wisconsin
20th Anniversary Wisconsin Fellowship of Poets' Invitational Marathon
April 15, Atlas Coffee Mill
Fox Cities Book Festival
Appleton, Wisconsin
Publisher's Panel, 12:30, & Poets Laureate Readings & Conversation, 3:00
February 11, 1:30-3:30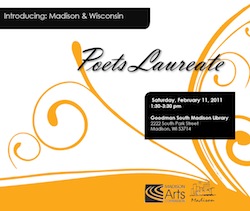 Goodman South Madison Library
2222 S Park St
Madison, Wisconsin

Laureates Inaugural Reading & Reception
November 10, 7 pm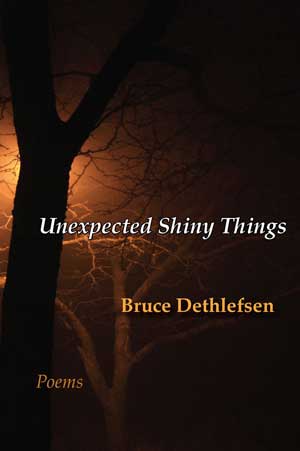 Avol's Bookstore
Madison, Wisconsin
Launch reading & party for Unexpected Shiny Things, by Bruce Dethlefsen, Cowfeather Press, a project of Verse Wisconsin.
October 23
Wisconsin Book Festival
Madison, WI
12-1:30 Voices of Verse Wisconsin
Panel discussion & reading from VW's Main Street Wisconsin Issue,which collects poems from the Wisconsin protests. Discussion ofwhat poetry is for, artistic excellence and immediacy, who gets to speak about what and when, and the relation of art and politics.
October 15
Lorine Niedecker Wisconsin Poetry Festival
Fort Atkinson, Wisconsin
Nature of Wisconsin Poetry
An overview of the state of Wisconsin poetry. How are poets and poetry best supported and what improvements might be made? Are there divisions separating poets that should be bridged? How should good writing be encouraged to raise the bar in general, and raise the profile of Wisconsin poetry nationally, even internationally? Discussion, questions, and maybe even answers.
Three readings with participants to celebrate Poetry Month & the Jawbreaker Project, with Poetry Jumps Off the Shelf!
March 17th, 2011 7:30-9 pm
Crosshatxh Reading Series
Rainbow Bookstore, Madison
The Poetry Duos Show, with Rita Mae Reese & C.E. Perry, Wendy Vardaman & Sarah Busse, and the Writers in Prison Project.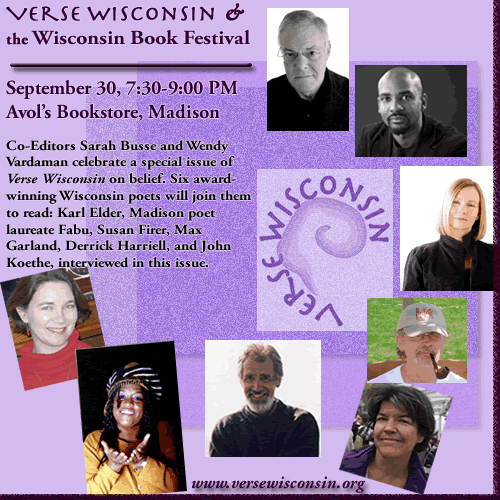 September 30th, 2010 7:30-9 pm
Wisconsin Book Festival
Avol's Bookstore, Madison
Reading with co-editors & Wisconsin poets Karl Elder, Fabu, Susan Firer, Max Garland, Derrick Harriell & John Koethe.
The Ludington Building
Columbia College Chicago
1104 South Wabash Avenue
6:00 p.m. to 11:00 p.m.
Annual celebration of print opens its doors to digital media. We're not presenting here, but Verse Wisconsin will participate.
Panel discussion: "Reading, Writing & Publishing Poetry in the E-text Era" Friday, June 18, 4:00 p.m.
Tribute to Wisconsin Poetry: A reading by Sarah Busse & Wendy Vardaman, 7:30 p.m. in the Caestecker Art Gallery.
A sampling of poetry with connections to Wisconsin, free and open to all, followed by a reception and book signing.

March 20th, 2010, 7 pm
Verse Wisconsin Launch, with VW authors, editors & advisors
Avol's Bookstore
Madison
March 19th, 2010, 7-8:30 pm
Verse Wisconsin Launch Reading,
with Todd Boss & Wendy Vardaman
Woodland Pattern Book Center
Milwaukee

Poetry reading and discussion of the magazine
"The New Free Verse"
Publishers Roundtable Madison Public Library-Main Branch

Discussion by editors & publishers from independent poetry presses in Wisconsin on the topic of "Starting & Sustaining the Small Press." We

will talk about ourindividual experiences, why we do what we do, why it matters, what we look for in the work we publish, why publish the chapbook, how individual small presses differ from one another as well as what they have in common, and what it takes to make this leap of faith! Publishers will bring books and other work samples, and be available to answer questions and to talk to authors individually after the discussion.
Participants include: Centennial Press, DesperadoPress, Fireweed Press, Little Eagle Press, Marsh River Editions, Mobius, & Popcorn Press
Publishers Roundtable Library Rogers Room

Poetry editors and publishers from around the state will gather to discuss how to support the business of poetry publication. A Q&A session will follow. Further tips and connections are encouraged at the Poetry Cafe.
Moderators - Sarah Busse and Wendy Vardaman, with Rod Clark (Rosebud), Karl Elder (Seems), Madison Poet Laureate Fabu (Madison Magazine), Shoshauna Shy (Woodrow Hall & Poetry Jumps Off the Shelf), Jason Smith (Wisconsin People & Ideas), and Henry Timm (Penninsula Pulse).
Reading by Sarah Busse and discussion of the magazine
Questions welcome. Open mic to follow.