American Virtue, American Vice
An Evening of Poetry at the Madison Museum of Contemporary Art
by Gillian Nevers
On a frigid Friday night in early February, in a standing room only crowd, surrounded by vibrant art, and with warm jazz piano drifting up from the lobby, twenty poets read original poems in response to an art exhibition. The program, American Virtue, American Vice was part of the opening night celebration of the Madison Museum of Contemporary Art's (MMoCA) exhibition, Apple Pie: Symbols of Americana in MMoCA's Permanent Collection.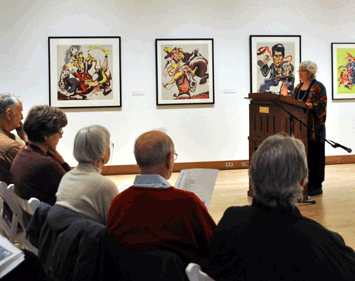 © 2010 Carleigh Knowles
Organized by Sheri Castelnuovo, MMoCA's Curator of Education with the assistance of Gillian Nevers, membership chair of the Wisconsin Fellowship of Poets (WFOP), and a long-time docent at MMoCA, American Virtue, American Vice followed last year's successful collaboration between MMoCA and the WFOP, Poems for the Wicked, which was organized in conjunction with the exhibition, Something Wicked this Way Comes.
American identity revolves around relatively few symbols, such as baseball, apple pie, and big cars. Culled from MMoCA's permanent collection, the eighty paintings, photographs, prints and sculptures in Apple Pie: Symbols of Americana in MMoCA's Permanent Collect, address American identity through imagery ranging from big cars and hamburger joints to cowboys and cornfields, to night cruising and drug use—imagery perfect for triggering the poetic imagination.
Madison area poets, joined by Madison's Poet Laureate, Fabu and Wisconsin's Poet Laureate, Marilyn Taylor, read poems that followed the overarching theme of the exhibition: the exploration of the divide between myth and reality, between the diversity of American life and the persistence of its core iconic images. Many of the poems were inspired by a particular work of art, while others were written in response to the larger themes within the exhibition. The poems were as diverse and exciting as the art in the exhibition and reflected the often conflicted nature of American identity.

American Virtue, American Vice was a memorable event for all—the poets, the audience and the museum. As Sheri Castelnuovo said in an email message thanking the participating poets, "The program of poems was truly outstanding and the event itself seemed perfectly situated in the gallery. As the upcoming exhibition schedule takes shape, I will keep an eye open for new opportunities for collaboration. We hope that MMoCA's association with the Wisconsin Fellowship of Poets will continue well into the future." The poetry community hopes so, too. Apple Pie: Symbols of Americana in MMoCA's Permanent Collection was on view through April 11, 2010, in the Main Gallery of MMoCA, 227 State Street, Madison, Wisconsin 53703; mmoca.org.

RNC Banquet
I'm so happy to show you these special
commemorative items brought to you by
the second-term inaugural committee.

Look at this exquisite porcelain eagle for only $950.
Or perhaps you'd prefer this stunningly beautiful
hardbound edition of "A New Beginning: The First Four Years."

Next, a Franklin Mint Replica of a Distinguished Service Medal
just like those given for the invasion of Grenada.
Then, an official $1,000 Defense Department screwdriver—

a steal at $500. And for that special someone, attractive
safety-sealed tamper-proof cans of toxic waste.
Or this elegant limited edition 1984 Mondale Debate Briefing Book

with a presidential memo bookmark that says "Fuck the poor!"
This one's nice: a lovely souvenir photo album
of Sandinista corpses. Finally, and you mustn't pass this up,

look at this living-room size portrait of the Vietnam War Memorial-
you can see a veteran there, shooting himself in the chest.
After you enjoy the feast we'll be here to take your order!
—R. Virgil Ellis, Cambridge, WI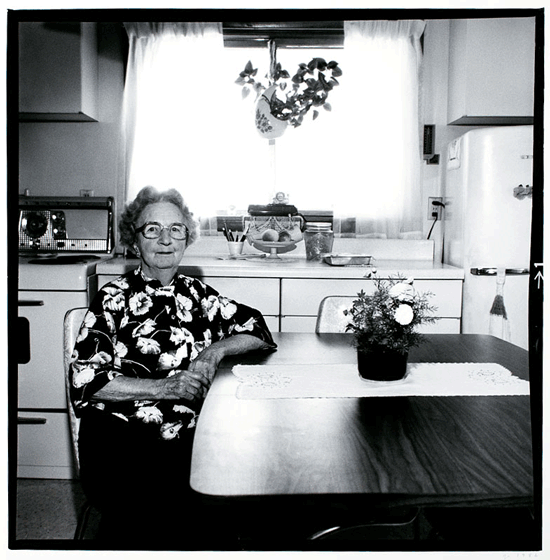 John Shimon and Julie Lindemann, Thecla Bertsche Keeps Busy and a Very Tidy House,
cir. 1986-1987. Gelatin silver print, 13¾ x 13½ inches. Purchase, through the Rudolph and Louise Langer Fund. Collection of the Madison Museum of Contemporary Art.
The Graceful Iron Kitchen Stool
The welder lady exclaimed
At the grace of my old white iron kitchen stool,
With its curved and recurved lines.
I'd retrieved it from Dad's old shed filled with farm stuff not auction-sold.
After he died I'd brought many things to this workshop room high-piled still
With scrap iron, old papers, old tapes and a Tandburg tape recorder-player once top-line,
Now heavily absurd.
And after the welder lady did her admiring, Mother happened to
Twice see her once kitchen piece now my favorite workshop stool,
Once all white now only patchily so, but unrusted –
Thick galvanized zinc beneath the paint.
I told how the welder lady exclaimed.
Mother shook her head, complained,
"Oh, that did such terrible things to my linoleum."
And when she saw it the second time she again recalled, explained
In identical words, exactly the same.
So that was then not now.
I still like that iron stool and have always liked its lines; I should downplay,
I admonished no-one in particular, well, I suppose myself, no replay
Of any old and heavy tapes.
Old painted iron can stay gracefully ok, even damaged, damaging goods,
Even something from the farm.
I note—looking at the stool again—
That Dad must once have tried to weld on it
Some floor-protection feet. I see they angle some, askew a bit.
But hey, no linoleum on this workshop floor!
Feeling my story,
I sit upon the stool again and we stand steadily enough,
This zinced heavy iron and me,
Patchily white, rough,
Surviving maybe
Still tough.
—Russell Gardner, Jr., Madison, WI
I'm leaving
The late night hours
Wandering the azalea streets
I'm leaving
The rain soaked bayous
Haunted by the hanging moss
I'm leaving
The blood soil soaked in iron
I'm leaving the smell
Of dry paper pine
And a tiny blue heart
Fluttering on a market bound rack
I'm leaving the wide bright stars
And the water air
And the ice house fists
And the shotgun blues
And the okra woods
And the shadows at the door
And the refinery nights
And the sea walled lives
I'm leaving
the lessons I learned
and the legacy of memories
and the graveyard nights
and the long slow song
of a southern self.
I'm leaving.

—Martha Kaplan, Madison, WI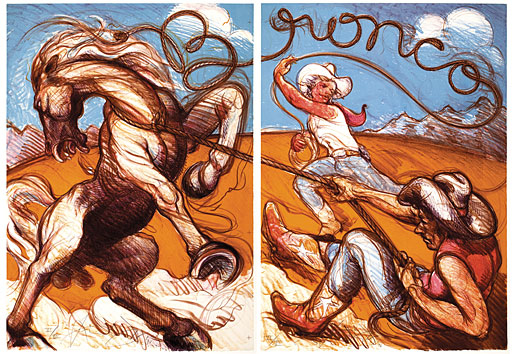 Luis Alfonso Jiménez, Bronco, 1978. Lithograph, two sheets: each 39½ x 28⅛ inches.
Anonymous gift. © 2010 Estate of Luis A. Jimenez, Jr. / Artists Rights Society (ARS), New York. Collection of the Madison Museum of Contemporary Art.
American triptych: Conveyances
I.
An earliest memory, Columbia, Missouri
1973 was three years old
sitting on the bike rack of my mother's yellow five speed
my foot got caught in the spokes
I hear it was a dreadful sight but what I recall
the policeman giving me his badge
and after the incidentals of the cast and miniature crutches
a child learns to assume the status of
the questions in which they are asked
That was late summer and
Halloween soonafter was pulled in a red wagon
house to house as a clown or dracula I recall with
a family memory a family attachment
oh the greatness of sympathy
II.
Sixteen, Flagstaff, Arizona
The first car was a 1973 Superbeetle
a popular first car and claim six friends with the same
a sensible car to move in the snow and move in the mud
capable of balancing between logger's road ruts one wheel in the middle and
the other on the grass the dry grass
there was always a forest fire danger
a mountain ponderosas receive about twenty inches of precipitation a year
leads one now to consider
the delinquencies of adolescence like
bonfires in clearings amid such places
[I reflect]
[on delinquency]
an altered driver's license is more than just about beer
say it is another type of license altogether
I got caught and
the friend with the red toyota truck with the pet pig and
the job hanging real estate signs all around
that metropolis
drew the short straw or either lived near enough and was
sympathetic enough
to give me a ride to school
The yellow bug sat idol for three months and
when one is sixteen it is a qualified hardship
to see such a [thing]
add that I was a good student and an Eagle Scout
it leaves
a balance of conscience
Sixteen may be more certain than confusing in many ways
a poems like thoughts are unattached to expectations and
a questions begin
III.
Twenty Eight, Madison, Wisconsin
The Volkswagon bus came from Eugene, Oregon
it had started as a BMW though
love changes [things]
Its year of birth was 1970 the same as my own and
spirited enough to carry one around the regional pastoralisms:
Lake Michigan shoreline the lakes the lakes and lands the various aspects of
the Mississippi River
water is a wonderful regard like good philosophy
it is sustaining it fits a shape
it freezes in the winter like a Volkswagon bus freezes in the winter
and soon enough to turn to a modern car with
implicit character with
heat
one which expects you pack your own tent
A sympathies to conservation and
social work then
I had started in education
found just the right dot and stepped out quietly thinking
call it a cloud like art
A new place is twice wonderful
a new and unqualified environment and
an anonymity with the dare of reinvention
so I bought a motorcycle too
and a KitchenAid mixer with some
attachments
ahh
what sympathy to attachments
—Greg Markee, Madison, WI

Greta Pratt, Man Eating Turkey Leg, Disney World, Florida, 1999. Cibachrome print, 14-3/4 x 14-3/4 inches. Collection of the Madison Museum of Contemporary Art. Purchased through Rudolph and Louise Langer Fund.


Inspired by Mark Mulhern, Untitled (teepee); Federico Castellon, Road to Arizona; and Greta Pratt, Man Eating Turkey Leg, Disney World, Florida.
My first graphic novel was four pages. Bound with red yarn threaded through rough holes punched with the point of a scissors, it had no text, except for the title, my name (the J backwards), and the end written in imperfect cursive. In the first illustration, men, women, and children, blond and blue-eyed, wearing chaps and spurs, or calico, stand in front of a circle of wagons, as if posing for the family Christmas card. A bright yellow sun smiles in a blue sky. In the next drawing, six Indians walk single file through a scene of jagged mountains, tepees, cacti. Wearing fringed buckskin, faces framed with multi-colored head dresses, they carry bows and quivers of arrows. One Indian, perhaps the chief, sits tall, astride a pinto pony. In the last page, the Indians lie on the ground—dead—watched over by grinning cowboys, curlicues of smoke snaking from their rifles.
My mother was proud of our "Indian blood." She argued with her Aunt Irene who denied the bloodline; but admired Aunt Lella when she moved to Arizona, braided her white hair, traipsed the desert hunting Turquoise. My heroes were cowboys, who fought Indians and bank robbers, saved widows from foreclosure, courted girls by singing "Sioux City Sue." I played cowboys and Indians, switching roles, mid-game. All my friends had toy guns—mine smoked when I pulled the trigger. If this bothered mother, she never said. She saved my novel, along with a construction paper headdress and my Roy Rogers holster set.
—Gillian Nevers, Madison WI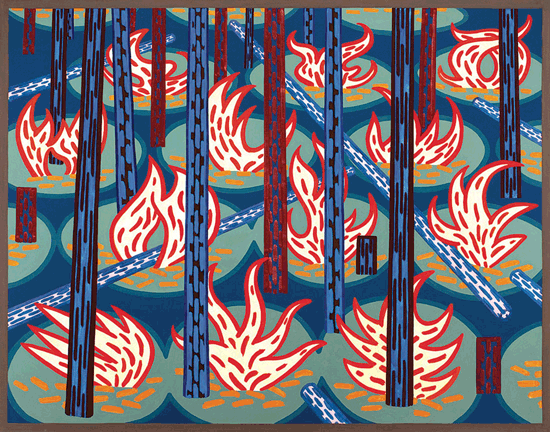 Charles Munch, Fire Signs, 1989. Oil on canvas, 41 x 53 inches. Museum Purchase Fund.
Collection of the Madison Museum of Contemporary Art.
Upon Reading Thoreau's Description of a Pickerel as "Animalized Water"

I remember the dock warped, weathered, worn
smooth from years of sun and water. Plunked
face down I peer between the gray slats

watch the perch slide by ignoring
my baited hook. My young eyes fix
on a shard of sunlight and color

that gradually resolves into a 2-foot pike.
Floating in place, its body ripples front
to back, front to back looking ready to lunge

for the perch, but with a quick muscular
flick it disappears, leaving eddies
of whirling sand. I shiver. I was struck

when I read of a father who recently found his son
in their cabin boathouse surrounded by rods, reels,
fishing tackle—playing an electronic fishing game.

—Steve Tomasko, Middleton, WI