Subscribe to Verse Wisconsin
In 2013 and 2014, Verse Wisconsin will appear biannually. A subscription (2 issues) is $15 (regular) and $10 (student price—please tell us your college affiliation). A subscription coincides with the calendar year.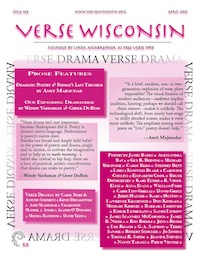 Please consider a subscription for your local library, high school, senior center, or other institution. We will happily send a letter informing recipients of your generous gift.
A current single issue of Verse Wisconsin is $8, plus $2 postage. Limited back issues are available; email to inquire. Back issues of Free Verse can be purchased from Linda Aschbrenner.
Subscribe online
Select one transaction from the dropdown menu. You can subscribe/renew, order a single current copy, or buy a book from Cowfeather Press. If you are buying a gift subscription, please email with details & request a gift letter, or make a note of that on the online form. Note that international rates are higher (to cover postage) and student rates less (tell us your college affiliation if you're new). Thanks for supporting Verse Wisconsin!

Order or donate by mail
Download a subscription form. Make checks out to Verse Wisconsin and send to:
Verse Wisconsin
P. O. Box 620216
Middleton, WI 53562-0216
Educator copies
Educator copies for classrooms or workshops are $4 each (minimum of 5 copies), plus postage. Email us to order these.
Postage for mail orders
Postage rates for single copies (please email or write us to order these): 1 copy=$2; 2 copies=$3; 3-5=$5; 6-10=$8; more than 11=$12.
Thank you! We look forward to meeting you within the pages of Verse Wisconsin.