Wisconsin Poetry News
Art & Poetry—Two Exhibits
Cold Read—Wisconsin Book Festival, September 30th,
6:30-7:15, Avol's Bookstore, Madison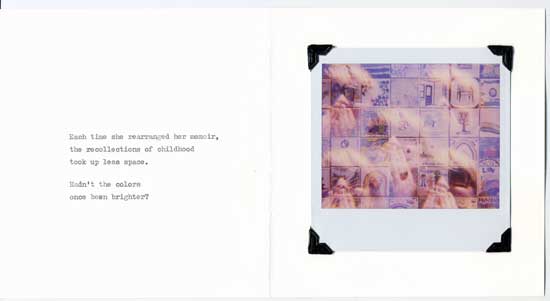 Each time she rearranged her memoir,
the recollection of childhood
took up less space.

Hadn't the colors
once been brighter?

The procedure for Cold Read: Tom Ferrella approaches passersby, briefly explains the nature of the project and asks permission to take a photo. The subject brings the finished Polaroid to F.J. Bergmann, who composes and types (on a manual typewriter!) a short poem, then and there, on a card into which the Polaroid is inserted. The subjects are mailed the finished card once it has been exhibited and scanned for possible publication (this is a future project). Ferrella has been delighted to discover that there is no such thing as a failed photo in this context—it's all a matter of interpretation. Bergmann's science-fiction proclivities have been of great assistance in giving rise to synergistically fetching results. Ekphrastic poetry is poetry written with a visual work of art as the subject; Cold Read is extemporaneous ekphrastic poetry, in collaboration with the image creation, using semi-Luddite methods.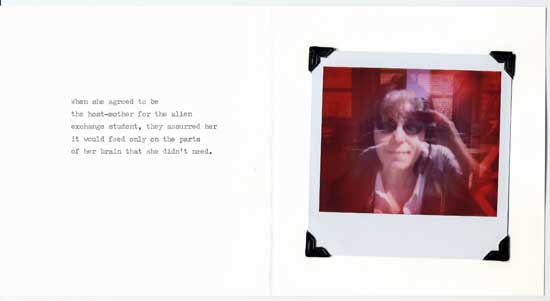 When she agreed to be
the host-mother for the alien
exchange student, they assured her
it would feed only on the parts
of her brain that she didn't need.
Cold Read will have an exhibit at Avol's Bookstore during the Wisconsin Book Festival, with an opening reception and short talk at 6:30 immediately prior to the Verse Wisconsin reading on Sept 30th.
She concentrated, and more of
what she didn't like was
erased. Everything except
the wall.

---

One Vision: Art and Poetry Show—
October 16, 7 p.m., Oconomowoc Arts Center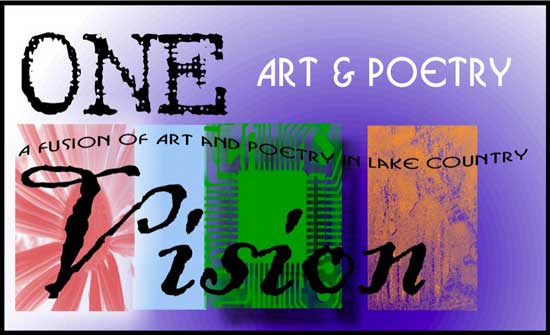 "One Vision: A Fusion of Art and Poetry in Lake Country" brings together fifteen pairs of artists and poets for a fine art exhibit and poetry reading at 7 p.m. Saturday, October 16 at the Oconomowoc Arts Center, unveiling the final results of a summer-long collaboration between the selected artists and poets. A reception with live music and refreshments will also be part of the evening's event, which is free and open to the public. Doors open at 6:30 p.m. for a preview and meeting with the artists and poets.
Called "ekphrastic" (that is, art or poetry inspired by other creative mediums), the project's goal is for the artists and poets to interact with each other to create a new expression of art or poetry from that experience. Poets and artists have spent the summer viewing/reading each other's work as they got to know each other and how the creative process works in each of their respective mediums. From this exploration, a poet could write a new poem to a piece of artwork, the artist create a new piece inspired by a poem, or the two could craft a whole new expression of art and poetry. Part of the adventure of ekphrastic art/poetry is to see where it leads creatively. "The inspiring effort of collaborating and creating something new is what matters," says Cristina Norcross, co-editor of the project.
Sponsored by the Pewaukee Area Arts Council, this is the second year for the program, which had a successful debut at the The Raven Gallery in Pewaukee last year. Long range plans are to continue the project in order to give many area artists and poets the opportunity to participate, and to bring awareness of the diversity of the arts to the community as part of PAAC's ongoing mission. A call for submissions will be announced each winter. "Artists and poets found working together to be very enriching last year," says co-editor Liz Rhodebeck. "There's quite an exciting buzz going on this year as well."
Artists participating in this year's project are: Kathy Boritzke, Dara Chappie, Albin Erhart, Susan Foley, Dan Fulwiler, Jason Iffert, Ann Kummrow, Carolyn Larkin, Barbara Plouff, Marcus Schmidt, Melissa Schoechert, Wendy Thompson, Angel Troyer, Deb Tschurwald and Elaine Zale. Poets participating are: Paula Anderson, Mary Jo Balistreri, Kathleen Carlson, Anjie Kokan, Judy Kolosso, Janet Leahy, Abby Lorenz, Katy Phillips, Suzette Purgill, Betty Rose, Virginia Scholtz, Paula Schulz, Kim Suhr, Samatha Troyer and Judy Wucherer. An outgrowth of the project has been the production of limited edition notecards featuring the artwork and accompanying poem of each pair; sets will be available for purchase the evening of the reception. All profit from the sale of the notecards will support PAAC's
programs and outreach in the community. Both the artwork and poetry will be on exhibition to the public at the OAC through November. For more information, visit www.pewaukeearts.org or contact Liz Rhodebeck at (262) 695-2761.