Wisconsin Poetry News
Wisconsin's Poet Laureate: Promoting Reading Series at Libraries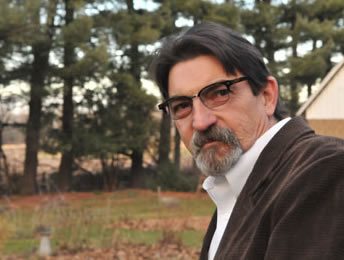 Newly appointed Wisconsin Poet Laureate Bruce Dethlefsen is seeking contacts with public librarians who want to start poetry readings. "Beyond promoting Wisconsin poetry and poets over the next two years, my main project is to help establish regular and self-sustaining poetry readings at public libraries across the state." Dethlefsen, a retired public library director, points out.
"I know there are so many poets out there," Dethlefsen says "just waiting to be asked to read their work—wordsmiths in Wausau, bards in Baraboo, versers in Viroqua, and rhymers in Rhinelander. On-going poetry readings encourage local artists and build the sense of community." Contact Bruce Dethlefsen at www.brucedethlefsen.com or email poetdethlefsen(at)gmail(dot)com for more information.
---
The State of the State Poet Laureate Position
By Cathryn Cofell
While Governor Walker has, for some inexplicable reason, decided not to renew Wisconsin's Poet Laureate commission or the postion, the commission is still very much in existence and very actively working to find a new home.  Bruce Dethlefsen remains Wisconsin's Poet Laureate; he was appointed by Governor Doyle, an appointment that cannot be stripped by Walker or any other government appointee.
The existing commission structure includes representatives from 5 key arts organizations—the Wisconsin Fellowship of Poets (WFOP), the Council for WI Writers (CWW), the WI Regional Writers Association (WRWA), the WI Arts Board (WAB) and the WI Humanities Council (WHC).  It also includes 2 citizen reps who help round out any gaps in membership from these organizations (ie, a region, an ethnicity, a gender, a style of writing, etc.). 
At least for now, this still seems to be a solid organizational structure and again, Bruce is still acting as Poet Laureate.  The only thing that has changed at this time is the appointment by the Governor for future Poets Laureate and the strings connecting this position to the Governor's office—one of which included $2000 of funding per year.
Jane Hamblen and Charles Ries, co-chairs of the commission, have been very active contacting arts organizations to find a new home. As a member of the advisory committee who worked with former Governor Thompson to research and validate the positive (and economic) benefits of having a state Poet Laureate, and as founding chair of the WI Poet Laureate Commission, I have my own personal biases about Governor Walker's abrupt decision. I have shared my opinions with him and my local representatives.  I strongly encourage you to do the same. [Email the Governor.]
In the long run I see this as a positive because there were a lot of strings in being attached to the Governor's office. And while I'm very disappointed in the loss of funding, the $2000 barely put a dent in the travel expenses of our former Poets Laureate for the hundreds of excursions they made throughout the state, often at the expectation of no fee.
There is also an endowment fund established at the Community Foundation for the Fox Valley Region, but this fund was intended to supplement the $2000, not replace it.  However, it may be the vehicle to which you'll want to direct future donations to the cause...once we sort out a charitable home base.  
Until then, let's give the existing commission time to work their magic. If you want to know more about the commission, follow this link to their website at (at least while it's still up!).  
---
The Village Poet Offers Alternative Model for Publishing Poetry
By Mike Kriesel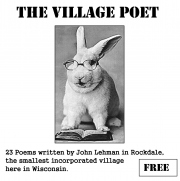 John Lehman further explores his form, the Wisconsin justified poem, in this 4" x 4" booklet: The Village Poet, Zelda Wilde Publishing, 315 Water St., Rockdale, Cambridge, WI 53523, 2010, Free. The work is regional, often surreal, as in Reasons to Live in Wisconsin:
I can open my kitchen door in the morning
and dump out a pan of bacon grease. Yes,

my wife and I, who each weigh nearly three
hundred pounds, eat meat. We down gallons

of milk every meal and squirt whipped cream
on our hunks of cheese. It feels cathartic

to confess this somehow. At times, late at night,
we eat a cow.
Resembling bits of newspaper column, these noir-inspired prose poems are conversational in style and narrative-driven. Grounded in Wisconsin, they capture the spirit of place like watercolor or haiku. These poems remind me of stories told in taverns. Something the average person might enjoy.
This last aspect prompted Lehman (who once ran an ad agency) to try something new: "After years of trying to get people to buy my poetry books and subscribe to Rosebud (a nationwide journal he founded), I figured 'why not do a selection of poems I just give away,'" Lehman explained. "A Madison printer agreed to run 500 copies of the 28-page booklet of short poems that I would design in "Publisher" for a reasonable price. Then one day I was driving by the Cambridge bank and thought 'what do I have to lose?' I asked them to contribute toward paying the printing cost. The bank president said he would, but didn't want to be the only sponsor. So I asked at the grocery store and got another $100."

Distributed at the bank, the grocery, and the local library, the books were gone in two weeks. "I included poems that expressed some feeling for life in Wisconsin. People often revert to bad school experiences when confronted by poetry as adults, so the chances of them being in the poetry section of a bookstore or library are remote. But FREE!" Lehman laughs. "Who can pass that up?"

Terrific things happened. People stopped Lehman on the street to talk about a particular poem. Some sent books to friends and family, boasting that their little village (pop. 204) had its own poet.

At the nearby Fort Atkinson Library, Ann Engleman, head of the Wisconsin Poetry Festival, was inspired to do something similar for native daughter Lorine Niedecker. With help from local business contributors, 1,500 similar booklets of Lorine's poems were printed. Another 1,500 are planned to help celebrate the opening of the refurbished library.
Not bad for a village poet!