Contributors' Notes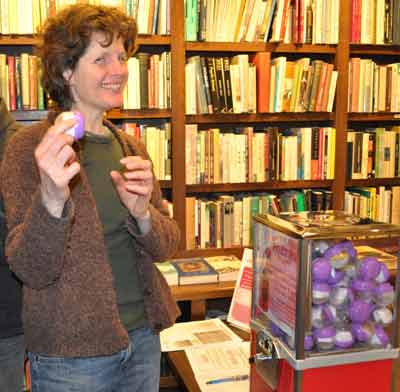 Erum Ahmed is from Pakistan, currently traveling in Egypt. She has studied in Pakistan, the United States, and Germany, and published school books, articles on diverse subjects, and poetry and fiction mostly in the United States. Although she's visited many states in America, she has not yet visited Wisconsin.
Idella Anacker is a retired Preschool/Kindergarten teacher. Her book Show and Tell shares her experiences with four- and five-year-olds for over twenty-five years. She enjoys writing children's stories as well as poetry and light verse.
Antler, former poet laureate of Milwaukee, is the author of Selected Poems, Ever-Expanding Wilderness, Deathrattles vs. Comecries, and Exclamation Points ad Infinitum! His work appears in the recent anthologies Poets Against the War; Poetic Voices Without Borders 2; Best Gay Poetry 2008; Comeback Wolves: Welcoming the Wolf Home; and Wilderness Blessings.
Christopher Austin is a previously unpublished writer living, working and writing in Milwaukee, where he lives with his wife, two children and two Labrador Retrievers.
Phyllis Beckman, a member of the Wisconsin Fellowship of Poets and the La Crosse Women Writers' Group enjoys writing online customer reviews of books on Amazon which led her to the VWOnline experience. Phyllis is spending the summer in Vermont with her great granddaughter.
Suzanne Bergen has lived in Wisconsin most of her life, born in the little town of Glenbeulah in the Northern Kettle Moraine. She fled to Massachusetts in midlfe for adventures and education, but returned to Wisconsin and Madison in the 1990s.
F.J. Bergmann is living in Wisconsin for the fourth or fifth time. She dwells in what is shown as Leeds Center on the Wisconsin map but has no other official existence, in the Poynette postal delivery area (Arlington is across the road), and, it turns out, in the DeForest school district. A good deal of her time is spent in Madison.
Gerald Bertsch grew up on the plains of South Dakota and attended a one-room school house for 6 years. His graduate studies in theology were done at Union Theological Seminary in New York City. His books of poetry include In This Land: Prairie, a poetic memoir of his childhood on the homestead in South Dakota.
Over the past few years, Amy Billone has had poems accepted by such journals as Abbey, Barbaric Yawp, Bellowing Ark, literary art book, and Small Brushes and Wavelength: Poems in Prose and Verse. Her book of literary criticism Little Songs: Women, Silence and the Nineteenth-Century Sonnet was published with The Ohio State University Press in April, 2007.
David Blackey is a mostly retired attorney recently elected to the board of the ACLU-WI. He's a volunteer naturalist with the Myrick Hixon Eco-Park, and a recent grandfather of two lovely girls, Isabella and Lucia. Previous work was included in Verse Wisconsin, SteamTicket, Forward and the 2011 Wisconsin Poets' Calendar.
John Bloner, Jr. lives in Kenosha, WI with his wife, Roberta. He manages Southport Press, a small press project and publishing opportunity, with area artists and authors. The Press' upcoming publication is a full-container container, chock full of stuff, including a book on myths, legends, tall tales and folklore (as interpreted by artists and authors), along with assorted ephemera.
Shirley J. Brewer (Baltimore, MD) is a poet, teacher, and workshop facilitator. She won first, second, and third prizes in poetry in the Maryland Writers' Association Short Works Contest in 2010, and was nominated for a Pushcart Prize in 2009. Publication credits include: Comstock Review, Free Lunch, Gunpowder Review, HazMat Review, Passager, Pearl, and other journals. Her first poetry collection, A Little Breast Music, was published in 2008 by Passager Books.
www.apoeticlicense.com
Amanda Brzenk is a Creative Writing major at the University of Wisconsin-Madison. She was an intern for Verse Wisconsin in the winter and spring of 2011.
Sarah Busse is a co-editor of Verse Wisconsin. She was awarded a Pushcart Prize and the WFOP Chapbook Prize in 2011. Her third chapbook, Gauguin in California, is forthcoming from Desperado Press and her full-length collection, Somewhere Piano, will be published by Mayapple Press.
John L. Campbell started freelance writing for business and trade magazines in 1995. His book, Writing in Retirement, explains his evolution into fiction and poetry along with the profiles of thirteen other writers-in-retirement. His latest poetry chapbook is entitled Backstreet Voyeur.
Carol Carpenter's poems and stories have appeared in Snake Nation Review, Quiddity, Barnwood International Poetry Magazine, Orbis, various anthologies, and an online chapbook, The Empress of Patton Avenue (Heartsounds Press).
Sherry Chandler has just completed a collection of persona and formal poems in the voices of women who featured in the history of her home state, Kentucky, and is looking for a publisher. Look for her work in Kestrel, The Dead Mule School of Southern Literature, and Soundzine. Chandler lived in Chicago for six years during the 70s during which time she is sorry to say she never once traveled over into Wisconsin. She is, however, a Facebook friend of former WI poet laureate Marilyn Taylor.
Martha Christina's short poems appear regularly in Brevities. Longer work has been published recently in the Aurorean, Common Ground Review, Newport Review, Main Street Rag, and The Orange Room Review. She lives in Bristol, RI. Her parents honeymooned in the Wisconsin Dells, and she has dear friends in Soldiers Grove.

Jan Chronister teaches writing at a tribal college in Minnesota. Her chapbook Target Practice was published by Parallel Press in 2009. Jan was awarded First Place in the 2011 WFOP Muse contest.
Antonia Clark works for a medical software company in Burlington, Vermont, and is co-administrator of an online poetry workshop, The Waters. Recent poems have appeared in The 2River View, Anderbo, Apparatus Magazine, The Cortland Review, Soundzine, Umbrella, and elsewhere. She's been to Wisconsin only once—to Madison—and can't wait to return.
Cathryn Cofell serves on the Advisory Board of Verse Wisconsin. She writes, too; moreso in the past with five published chapbooks and a CD that combines her work with the music of Obvious Dog. She has lived in Wisconsin for all but three years when she tried to love and live in Colorado, both heinous mistakes now rectified.
Barb Cranford was an assistant editor at Britannica Junior, a poet, a sculptor and a gallery owner in Chicago. She has seven books and a Pushcart nomination, holds poetry workshops in her home in the woods, and writes poems when she feels like it.
Barbara Crooker's books are Radiance, which won the 2005 Word Press First Book competition and was a finalist for the 2006 Paterson Poetry Prize; Line Dance, (Word Press 2008), which won the 2009 Paterson Award for Literary Excellence; and More (C & R Press, 2010). She lives and writes in rural northeastern Pennsylvania, but has a fondness for Wisconsin writing, based on the excellence she found when she judged the Lorene Niedecker and the Posner awards.

Heidi Czerwiec is associate professor at the University of North Dakota, where she directs the annual UND Writers Conference. She is the author of Hiking the Maze (Finishing Line Press, 2009), the recipient of a 2009 Bush Foundation/Dakota Creative Connections artist grant, and has poems and translations published or forthcoming in Crab Orchard Review, New South, Measure, Nimrod, and International Poetry Review.

Julie Damerell teaches at a community college in Rochester, New York, and edits miller's pond, miller's pond. This is her second poem for Poetry Jumps Off the Shelf, and her java jacket and jawbreaker poems are her favorite publications. Last spring she wrote and delivered the inaugural poem for the new college president, and her parents drove an hour to see her minute and twenty seconds of fame. In the hall closet, somewhere among stacks of pictures of her two children and husband, she still has a few copies of her chapbook, Needing Blue (H&H Press, 2001).
CX Dillhunt was born in Green Bay and grew up in De Pere in a big house on the Fox River as one of twelve children. Currently he's an assistant editor for Hummingbird: Magazine of the Short Poem, and he served as co-editor of the Wisconsin Poets' Calendar: 2006. He teaches elementary school writer's workshops and is the lead instructor for Elderhostel's The Writer in You at Green Lake.
Denise Duhamel's most recent poetry titles are Ka-Ching! (University of Pittsburgh Press, 2009), Two and Two (Pittsburgh, 2005), Mille et un Sentiments (Firewheel, 2005) and Queen for a Day: Selected and New Poems (Pittsburgh, 2001). A recipient of a National Endowment for the Arts fellowship, she is an associate professor at Florida International University in Miami.
P. R. Dyjak is an Assistant Professor of English at the University of Wisconsin-Stevens Point, where she teaches creative writing, poetry, and composition. She lives with a puppy, Zoë, who is Australian Shepherd/Border Collie, and two kittens, Flora and Chianna. A long time ago she lived in Madison, with her dogs Molly and Jasmine.
R. Virgil (Ron) Ellis lives near Cambridge, Wisconsin, where he and his wife are busy restoring fifty acres of wetland and savanna. He is an Emeritus Professor who taught writing, literature and media at the University of Wisconsin-Whitewater. For an exploration of his work see www.poetrvellis.com.
Thomas J. Erickson is an attorney in Milwaukee, Wisconsin. His chapbook, The Lawyer Who Died in the Courthouse Bathroom, will be published by Parallel Press in 2013.
Fabu is Madison's third Poet Laureate. She has two new publications: In Our Own Tongues, published by the University of Nairobi Press and African American Life in Haiku published by Parallel Press. Her website is www.artistfabu.com
Casey Francis is currently pursuing a graduate degree in English at New Mexico Highlands University, but will always be a Nebraskan at heart. He has published work in Quincy University's Riverrun Magazine and blogged for the Center for Rural Affairs on their Blog for Rural America (www.cfra.org/blog).
Russell Gardner, Jr. grew up on a central WI farm, lived in many states as an adult, and is back in Wisconsin. Writing poetry (and prose) since college, he also does mixed media visual art and helped originate and then coordinate the Epidemic Peace Imagery project featured in Free Verse #99/100.
Max Garland is a former rural letter carrier from western Kentucky, and the author of two books of poetry, The Postal Confessions, winner of the Juniper Prize for Poetry, and Hunger Wide as Heaven, which won the Cleveland State Poetry Center Open Competition in 2006. His poems and stories have appeared widely. He has received an NEA Fellowship for Poetry, a Michener Fiction Fellowship, a Bush Literary Fellowship, and fellowships from the Wisconsin Arts Board in both poetry and fiction. He lives and teaches in Eau Claire, Wisconsin.

Manos Georginis is Associate Professor (English Language & Literature) at the Hellenic & Military University (Evelpidon School) in Athens,Greece. His English translations of Greek poetry have appeared in various literary journals. He is also the author of a fully annotated translation of the long poem Lambros (1828) by Greece's national poet, Dionysios Solomos. His latest book, Writers at the Front Line: The Writings of the 1914-1918 War Poets, was published by the Hellenic Military& University in May 2011.
Jim Giese has left Wisconsin numerous times for short-term jobs only to be drawn back to the state's natural beauty. When he needs inspiration or recuperation he heads to the woods and fields with his two labs.
Sara Greenslit works as a small animal veterinarian in Madison. She earned an MFA from Penn State and a DVM from the UW. FC2 is publishing her second novel in 2011, As if a Bird Flew By Me. Her first novel came out from Starcherone, The Blue of Her Body.
David Graham has taught writing and literature at Ripon College in Ripon WI since 1987. He is the author of six collections of poems, most recently Stutter Monk (Flume Press), and an essay anthology co-edited with Kate Sontag, After Confession: Poetry as Autobiography (Graywolf Press).
John Grey has been published recently in the Talking River, South Carolina Review and Karamu with work upcoming in Prism International, Poem and the Evansville Review.
James Gurley's first book of poems, Human Cartography (2002), won the T. S. Eliot Prize and was published by Truman State University Press. His work has appeared in Indiana Review, Spoon River Review, and Unsplendid. The poem included here is from a recently completed manuscript Organic Radio. He lives in Seattle.

Kenneth P. Gurney lives in Albuquerque with his beloved Dianne. For Kenneth's full bio, publication notes and available books please visit http://www.kpgurney.me/Poet/Welcome.html.
Lois Marie Harrod's 11th book of poetry, Brief Term, was just published by Black Buzzard Press. Widely published in journals from APR to Zone 3, she teaches Creative Writing at The College of New Jersey.
Richard Hedderman's poems have appeared in South Dakota Review, CutBank, Eclipse, and elsewhere. His chapbook, The Discovery of Heaven was published by Parallel Press in 2006. He is the Senior Educator at the Milwaukee Public Museum and a Lecturer in Theatre at UW-Milwaukee.
Charles Hughes retired recently from the law firm where he worked for many years. His poems have appeared or are forthcoming in Measure, Sewanee Theological Review, Iron Horse Literary Review, America, and the 2010 poetry anthology of the Georgia Poetry Society, The Reach of Song. He lives in the Chicago area with his wife. They and their sons have enjoyed many family vacations in the Hayward area.
Karla Huston is the author of six chapbooks of poetry, most recently, An Inventory of Lost Things (Centennial Press, 2009). Her poems, reviews and interviews have been published widely. Her poem "Theory of Lipstick," originally published in Verse Wisconsin #101, was awarded a Pushcart Prize.
Clint Jensen is a junior at UW-Madison majoring in English and Journalism. He has lived in Tomah, Wisconsin for his entire life.
John Johnson's poems have appeared in BOXCAR Poetry Review, Chaparral, The Comstock Review, and DMQ Review. A collection of his poems has recently won an award in the Sebastopol Center for the Arts "Bibliophoria Poetry Contest." He lives in Petaluma, California.
Henk Joubert moved to Wisconsin in 1998 from southern Africa, and has been living in the greater Milwaukee area since then. He switched over to writing English poetry from his native language four years ago. He needs to write to get his creative fix.
Kit Kennedy co-authored Inconvenience (Littoral Press, Berkeley) and Constellations (Co-Lab Press, San Francisco) with Susan Gangel. While Eating Oysters is published by CLWN WR Press, Brooklyn. She lives in San Francisco. http://www.poetrybites.blogspot.com
Claire Keyes is the author of two poetry collections: The Question of Rapture and Rising and Falling. Her poems and reviews have appeared in Tattoo Highway, Prairie Schooner and The Newport Review, among others. Although a resident of Marblehead, MA, she took a memorable drive through lake-filled Wisconsin in the first car she ever owned.
Athena Kildegaard lives in western Minnesota. Her books are Rare Momentum, a series of fibonaccis, and Bodies of Light, both from Red Dragonfly Press. In her first year of marriage she lived in southern Minnesota and her husband in Chicago, and they traveled many times across Wisconsin full of eagerness.
Michael Kriesel is a poetry reviewer for Small Press Review and his reviews have appeared in Library Journal. He has won both the WFOP Muse Prize and the Lorine Niedecker Award from the Council for Wisconsin Writers. He's been nominated for nine Pushcart Prizes. Books include Chasing Saturday Night (Marsh River Editions); Feeding My Heart To The Wind and Moths Mail The House (sunnyoutside press); and Soul Noir (Platonic 3way Press).
Jackie Langetieg has three books of poems: White Shoulders (Cross+Roads Press), Just What in Hell is a Stage of Grief, and Confetti in a Silent City (Ghost Horse Press). She is a member of the Wisconsin Fellowship of Poets and regular contributor to the annual calendar.
Peg Lauber has spent most of the year making books for her two grandchildren, writing and revising stories and children's poems. Not being able to draw anything but horses herself, she's searched the free coloring pages for illustrations and colored them herself. Next she's going to sew old and diesel train pillows from material an old friend in NH found in the town dump and sent her years ago.

Estella Lauter is Professor Emerita at UW-Oshkosh and lives in the Door Peninsula. Her first chapbook, Pressing a Life Together By Hand (2007) appeared in the New Women's Voices series from Finishing Line Press, and was nominated for two Pushcart prizes. The Essential Rudder: North Channel Poems was released by FLP in 2008. Her poem "Gaza, January 2009" tied for first prize in the 2009 Barbara Mandigo Kelly Peace Poetry Contest; it appears on www.wagingpeace.org.
John Lehman is the founder of Rosebud magazine and the poetry editor of Wisconsin People & Ideas.
Quincy R. Lehr's poetry and criticism have appeared in numerous journals and e-zines in the U.S., UK, Ireland, Australia, and the Czech Republic. His first book, Across the Grid of Streets, appeared in 2008, and his second, Obscure Classics of English Progressive Rock, will appear soon. He lives in Brooklyn, where he teaches history. He once got unbelievably drunk in Madison, Wisconsin.
Lyn Lifshin's most recent books are The Licorice Daughter: My Year with Ruffian (Texas Review Press), Another Woman Who Looks Like Me (Black Sparrow at Godine). She has over 120 books and she has edited four anthologies. Her website is www.lynlifshin.com.
dawn lonsinger is pursuing a doctorate at the University of Utah, and is the author of two chapbooks, the linoleum crop (Jeanne Duval Editions) and The Nested Object (Dancing Girl Press). Her poems have recently appeared in Colorado Review, New Orleans Review, Sycamore Review, Subtropics and Best New Poets 2010. She, like most living organisms, has a thing for light. Find out more.
Though David Lurie grew up on the East Coast, he moved to the Midwest after graduating from Binghamton University in 2008, and he's spent the last three years bouncing between Milwaukee and Chicago. Since earning his B.A., he's taught in two different high-need Milwaukee Public Schools, worked as a test prep teacher for wealthy Chicagoans, and sold fitness equipment and snow throwers, all while writing poetry and making plans for Ph.D. programs.
Alison Luterman's two books of poetry are The Largest Possible Life (Cleveland State University Press) and See How We Almost Fly (Pearl Editions.) Her poems have been published in The Sun, Prairie Schooner, The Atlanta Review, Many Mountains Moving, and Poetry 180. She also writes personal essays and plays. She teaches creative writing and performs improvisational dance theatre with a group called Wing It! in Oakland, California.

Amit Majmudar's first book, 0°,0° [Zero Degrees, Zero Degrees], (Northwestern University Press/TriQuarterly Books, 2009) was a finalist for the Norma Farber First Book Award. His second manuscript, Heaven and Earth, won the 2011 Donald Justice Award. His first novella, Azazil, was serialized recently in The Kenyon Review over three issues. His first novel, Partitions, was published by Henry Holt/Metropolitan in 2011. His poetry has been featured on Poetry Daily several times and has appeared in Poetry Magazine and The Best American Poetry 2007.
Jesse Manser grew up in Middleton, attended UW-Milwaukee, and recently graduated with a degree in Journalism. He continues to work, write and live on the city's eastside and is grateful and honored to have his poetry published in Verse Wisconsin. Other work of his can be found at the Shepherd Express online poetry column, available at www.expressmilwaukee.com, and in Fox Cry Review.
Janet McCann teaches in the Department of English, College of Liberal Arts, at Texas A&M University.
Wisconsin has always been special to Linda Back McKay. When she was little, there were all those glorious summers at Uncle Albert's farm in Chippewa Falls. Now it's riding a red (the color of roses and fine cabernets) Harley-Davidson along the river through Stockholm, Maiden Rock and Pepin. She is author of several poetry collections and the groundbreaking book, Shadow Mothers: Stories of Adoption and Reunion, which was inspiration for the play, Watermelon Hill, which has been produced by professional theater.
Rick McMonagle was born and raised in Pittsburgh, PA. His parents honeymooned at Lake Geneva. He lived in the country outside of River Falls, WI from 1996 to 2008. His poetry lineage includes a Calabrian great-uncle who fell in love, left the priesthood, emigrated to NYC and wrote poems; his first poetry teacher at Penn State, John Haag, who was a student of Theodore Roethke; and Allen Ginsberg and Anne Waldman at Naropa Institute.
Mary Mercier, a native of Milwaukee, now lives 77 miles east of that Cream City, with her husband and two wily cats. Her poetry has appeared in Free Verse, Fuse, Connotations, and Wild Earth. She is the author of one chapbook, Small Acts (Parallel Press). In 2005 her poem "Snow Geese" was included as a component of Martha Glowacki's exhibition, Starry Transit, staged at the University of Wisconsin's Washburn Observatory.
Richard Merelman writes poems because language is the only medium through which he can hope to achieve beautiful expression. Poems of his have appeared in Main Street Rag and Measure. Recent poems have appear in Bumble Jacket Miscellany and Verse Wisconsin. He taught political science at the University of Wisconsin-Madison until 2001.
Richard W. Moyer is 80 years old. He obtained his AB in English at Harvard College in 1953; his MH from University of Richmond in 1976; and an MA in English from Temple University in 2000. His poems are widely published, and he has one chapbook and one book of selected poems to his credit.
Ralph Murre is a recovering Wisconsin farm boy who has taken to poetry instead of plowing, since the pay rate is about the same, and the females involved tend to be human rather than Holstein. His books to date are Crude Red Boat (Cross+Roads Press) and Psalms (Little Eagle Press). He also admits to occasional blogging at the Arem Arvinson Log.
normal began writing and reciting poetry in Greenwich Village circa 1962-64. Since then he has lived in 47 places and held almost as many jobs, the past thirty years he's been a nurse. He's been widely published in mostly underground poetry rags, and has two chapbooks from Lummox Press.
LaMoine MacLaughlin is Executive Director of the Northern Lakes Center for the Arts in Amery, Wisconsin. In 2003, Mr. MacLaughlin was appointed first Poet Laureate of Amery. He has taught poetry for many years, edits The Hometown Gazette, and published one collection, A Scent of Lilac and other poems (2009). He was recently invited to Scotland, where he read his poetry in several places.
Maurice Oliver's poetry has appeared in numerous national and international publications and literary websites including Potomac Journal, Pebble Lake Review, and Frigg. His fourth chapbook was One Remedy Is Travel (Origami Condom, 2007). He edits the literary ezine Concelebratory Shoehorn Review at http://cshoe.blogspot.com.
Helen Padway lives, writes and laughs in Wisconsin. She is part of the Sparks and the Hartford Avenue Poets. Her poems have been published in a variety of print publications and most recently in the ezines New Verse News and Your Daily Poem. She is young enough to think that poetry can change the world.
Elmae Passineau, Wausau, Wisconsin, is a former English teacher, principal, and private pilot. Currently, she is a thinker, reader, friend, helper, feminist, and writer.
Nancy Petulla is a retired minister who lives in a 150-year-old farmhouse. She has lived there for 34 years.
Kenneth Pobo has a new chapbook out from Thunderclap Press called Closer Walks. His work appears online at Stickman Review, 2River View, Flash Fiction Offensive, Bananafish, and elsewhere. He did his graduate work at UWM and now teaches creative writing and English at Widener University in Pennsylvania.
Charles Portolano started writing poetry 14 years ago to celebrate the birth of his daring, darling daughter Valerie, and to preserve the memories. Valerie was born with many obstacles to overcome. Writing soon became his way of saving his sanity. Valerie is doing great now; she is quite the young writer.
Ester Hauser Laurence Prudlo is a UW alumna who has lived away from the state for some 28 years, but who returned two years ago for summers in the Madison area. She is the author of three children's books and has published a few poems. She taught creative writing courses for UWX in the 70's. A retired counselor to soldiers and inmates, she is mother of 4 and grandmother of 4, and she lives with her husband, Tony.
Casey Quinn has had two poetry chapbooks published Snapshots of Life by Salvatore Publishing and Prepare to Crash by Big Table Publishing. His third poetry chapbook will be released in 2011 by Epic Rites Press. In his free time he edits the online magazine Short Story Library at http://shortstory.us.com.
Zara Raab's Swimming the Eel is due out this fall. Her work appears in West Branch, Arts & Letters, The Dark Horse, River Styx and elsewhere. Her reviews and essays appear in Redwood Coast Review,Poetry Flash, The Review Review, Colorado Review and elsewhere. She attended U. Michigan and has a niece who teaches at U. Wisconsin.
Christine Redman-Waldeyer, founder and editor of a new women's literary journal Adanna, holds a Doctorate of Letters from Drew University. She teaches literature, writing, and journalism at Passaic County Community College and is the Coordinator of the Journalism Program. She is the author of two books of poetry with Muse-Pie Press, Frame by Frame (2007) and Gravel (2009) and is published in literary journals including Caduceus Journal, Connections Magazine, Exit 13, and The Texas Review.
James Reitter was born in Germany, but grew up in lower NY. He earned his BA in Creative Writing from SUNY Oswego, his MFA in Poetry from CUNY Brooklyn, and his Ph.D. in Folklore at the University of Louisiana at Lafayette. He's spent the past four years as an Assistant Professor of English for UW-Sheboygan and lives in Sheboygan with his fiancée, two cats, and a bearded dragon.
Harlan Richards grew up on the west side of Madison and came late to his penchant for poetry, having not begun to write until his mid-50s. He has had poems accepted by Love's Change Magazine, Shepherd, Samsara and Italian-Americana. He is currently living in Wisconsin's Belly of the Beast.
Moira Richards lives in South Africa and hangs out here: http://www.darlingtonrichards.com and here: http://www.redroom.com/author/moira-richards. She, with Norman Darlington of Ireland, edits and publishes the annual Journal of Renga & Renku.
Ron Riekki is the author of U.P. (Ghost Road Press), Leave Me Alone I'm Bleeding (Gypsy Daughter), and Poems about Love, Death and Heavy Metal (Gypsy Daughter). He also organized THE U.P. BOOK TOUR 2011, featuring more than 60 authors doing readings, workshops, book signings, and panel discussions in 21 U.P. cities.

Charles P. Ries's narrative poems, short stories, interviews, and reviews have appeared in over two hundred print and electronic publications. He has received four Pushcart Prize nominations. He is a founding member of the Lake Shore Surf Club, the oldest freshwater surfing club on the Great Lakes. Most recently he was interviewed by Jane Crown for Blog Radio (www.janecrown.com—click on archived shows at the bottom of the page). Visit www.literati.net/Ries/.
Lou Roach, former social worker and psychotherapist, lives in Poynette. Her poems have appeared in a number of small press publications, including Main St. Rag, Free Verse and others. She has written two books of poetry, A Different Muse and For Now. She continues to do free-lance writing, although poetry is her favorite thing to do.
Margaret Rozga is a lifelong resident of Wisconsin. Her book Two Hundred Nights and One Dayfeatures poems about the 1967-68 open housing marches in Milwaukee and was named an outstanding achievement in poetry for 2009 by the Wisconsin Library Association. Rozga blogs at http://www.benupress.com/for-words/.
Marybeth Rua-Larsen's poetry has been published or is forthcoming in: The Raintown Review, Measure, The Barefoot Muse, The Concho River Review, and The Worcester Review, among others. She has only the most tentative connections to Wisconsin: a talented former student of hers moved to Wisconsin after graduation...and loved it.
Chuck Rybak is a professor of creative writing and literature at UW-Green Bay. He is the author of three collections of poetry, the most recent being Tongue and Groove, which was published by Main Street Rag. Chuck lives in Green Bay with his wife and two daughters.
Jane Satterfield's most recent book, Daughters of Empire: A Memoir of a Year in Britain and Beyond, appeared from Demeter Press in 2009. Her second collection, Assignation at Vanishing Point, received the 2003 Elixir Press Poetry Prize. She received an NEA Fellowship in Literature and three Maryland State Arts Council grants in poetry. She hasn't traveled to Wisconsin (yet) but was deeply flattered when a barista at the University of Iowa who hailed from Madison admired her "Boston" accent!
G. A. Scheinoha thought about becoming a private detective, later, a bounty hunter. He never imagined he'd follow in his father's tracks; a series of blue collar jobs. Where their lives differed was instead of marriage and family, he wrote a million words over thirty years, some of which have recently appeared in Avocet, Bellowing Ark, Bracelet Charm, Echoes, Floyd County Moonshine and Verse Wisconsin.
Judith Sepsey began writing when she retired about ten years ago. She has been published in The Milwaukee Journal Sentinel, Echoes, Free Verse, and elsewhere.
A lifelong resident of Wisconsin, Kathleen Serley enjoys all of our seasons: spring gardening, summer beach combing, fall hiking and winter snow shoeing. She teaches English.
John H. Sime lives in the Kickapoo Valley of Western Wisconsin where he operates a funeral home. He has written poetry since service in the U.S. Peace Corps as an English teacher in Bamako, Mali. He has contributed to Kickapoo Free Press, Hummingbird, The Epitaph-News, and The American Funeral Director.
Hal Sirowitz is the former Poet Laureate of Queens, New York, serving for three years beginning in 2000. He's the author of 5 poetry books, the latest forthcoming from Backwaters Press in Nebraska. He's the author of Mother Said (Random House) which was translated into 9 languages, including Norwegian, where it was made into animated cartoons and adapted to the stage.

Kate Sontag's recent work appears in Prairie Schooner, Seattle Review, Verse Wisconsin, and EXPRESSmilwaukee.com. Her work has been featured in Valparaiso Poetry Review and appeared in anthologies such as Boomer Girls, Are You Experienced?, and Sweeping Beauty (U. of Iowa). She is co-editor of After Confession: Poetry as Autobiography (Graywolf) and teaches at Ripon College.
Known mainly as a poet/teacher, Barry Spacks has brought out various novels, stories, three poetry-reading CDs, and ten poetry collections while teaching literature and writing at M.I.T. & UC Santa Barbara. His most recent book of poems, Food for the Journey, appeared from Cherry Grove in August, 2008. Over the years his poetry has appeared in The New Yorker, Harper's, Atlantic Monthly, Paris Review and hundreds of other journals.
Sandy Stark came to Madison in 1969 and found friends, Lake Wingra, the farmers' market, and birding local woods just too good to leave. Finding a community of poets sealed the deal. A book of poems, Counting on Birds, is just out from Fireweed Press.

Marc Swan lives on Munjoy Hill in Portland Maine. His work has been published in Exquisite Corpse, Rattle, Slipstream, and Westerly, among others. Simple Distraction, a collection of his poems from 1989 to 2009, was published in fall 2009 by tall-lighthouse in London England.
Judy Swann lives in gorgeous Ithaca, NY in a small house painted in Frida Kahlo colors. Her poetry has appeared in Lilliput Review, Verse Wisconsin, Soundzine and other places both in print and online. She is an Iowan who often visited Wisconsin in her youth.
Richard Swanson lives in Madison, Wisconsin where he reads, gardens, and writes. His previous volume was Men in the Nude in Socks (Fireweed, 2006). His newest collection, Not Quite Eden, was also published by Fireweed in 2010.
Jeanie Tomasko is a home health nurse who loves to write, take walks, birdwatch and thinks everything is prettier in Fall. She is the author of a forthcoming chapbook, Tricks of Light, (Parallel Press, 2011).
Wendy Vardaman, author of Obstructed View (Fireweed Press 2009), is co-editor of Verse Wisconsin. Her essays & interviews have appeared at Poetry Daily and on Poets.org. Visit wendyvardaman.com.
Lisa Vihos worked for twenty years as an art museum educator and is now the Director of Alumni Relations at Lakeland College. Her poems have appeared previously in Verse Wisconsin, and in Free Verse, Lakefire, Wisconsin People and Ideas, Seems,and Big Muddy. She is an associate editor of a new literary journal, Stoneboat, which made its debut in October, 2010. She resides in Sheboygan with her 12-year-old son and maintains a weekly poetry blog.
Timothy Walsh's awards include the Grand Prize in the Atlanta Review International Poetry Competition and the Kurt Vonnegut Fiction Prize from North American Review. He authored a book of literary criticism, The Dark Matter of Words: Absence, Unknowing, and Emptiness in Literature and two chapbooks, Wild Apples (Parallel) and Blue Lace Colander (Marsh River). He is an Assistant Dean at UW-Madison.
Theresa Malphrus Welford, who teaches First-Year Writing and Creative Writing at Georgia Southern University, completed her PhD at the University of Essex (Colchester, England) in 2006. Her publications include scholarly articles, book chapters, creative nonfiction, and poetry, as well as The Paradelle: An Anthology (2005, Red Hen Press); The Cento: A Collection of Collage Poems (forthcoming from Red Hen); and Trans-Atlantic Connections: The Movement and New Formalism (forthcoming from Story Line Press). Theresa is also working on several children's books.
Marie Sheppard Williams's mentor for poetry is Thomas R. Smith, a WI poet and essayist. She has had poems published in The Sun, Poetry East, Ted Kooser's newspaper column, and another issue of Verse Wisconsin. She has published seven story collections, and has won the Pushcart Prize twice.
Marilyn Windau was nurtured on Big Bend farms, in raspberry patches in Fremont, by blue gills from Green Lake and on books in Madison. Graduating from UW- Madison, she married a civil engineer from Wauwatosa and raised three daughters in Appleton and Sheboygan Falls. She teaches art to elementary school children in Oostburg.
Dan Wrzesinski turned Ron's poetry book Leave Me Alone I'm Bleeding into an audio CD of musicpoems, some of which are included in Verse Wisconsin. Read Dan's blog.