Wisconsin Poetry News
Max Garland, Wisconsin Poet Laureate, 2013-15
Poetry Jumps Off the Shelf Madison B-Cycle Poems
Midwest Small Press Fest, May 31-June 2, Milwaukee
Poetry Out Loud Winners
Contemporary Haiku: Where Do We Go From Here? (Haiku Society of America Meeting Chicago, September 27-29)
Wormfarm Institute Pass Words & Farm Art DTour
Furrow Write-In
New Reading Series: Crossroads Poetry
Wisconsin Fellowship of Poets "Triad Winners"
---
Wisconsin Poet Laureate Commission Selects Next Poet Laureate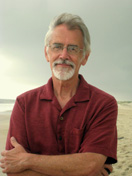 MADISON—The Wisconsin Poet Laureate Commission has selected award-winning poet Max Garland of Eau Claire as the Wisconsin Poet Laureate for 2013–2014. The commission praised Garland's poetry for its richness of language, human understanding, and accessibility to broad audiences.  
A first generation college student, Max Garland left a ten-year career as a mail carrier to pursue his love of poetry. He earned a Master of Fine Arts in Creative Writing from the University of Iowa in 1989 and has been teaching since 1990; currently he is Professor of English at the University of Wisconsin–Eau Claire. In his first poetry collection, The Postal Confessions, which earned the prestigious Juniper Prize for Poetry, Garland chronicles his years carrying the mail in a classic American voice, discovering deeply felt significance within everyday experiences often drawn from the lives of the folks who lived on his rural mail route. Garland's second book, Hunger Wide as Heaven, earned another national prize, this time from the Cleveland State University Poetry Center, a leading force in the publishing and promotion of new American poetry. Of his book, poet Naomi Shihab Nye writes, "[t]here's a welcoming world here you'll recognize, as well as a wistfulness that feels perfectly pitched, leaning out to mystery … I'm a mad fan of the delicious, radiant poems of Max Garland."  
As Wisconsin's Poet Laureate, Garland hopes to "reach out to those who may feel alienated from the world of poetry (or art), and yet have deeply felt experiences to record and honor…. [P]oetry is still a means of expression open to everyone. It's one of those things that's just too important to be left to experts." In particular, Garland is "interested in promoting the connection between poetry and place, and urging young, as well as young-at-heart writers, to write of the places they know and explore their relationships with those places in poetry."  
Garland replaces the fourth Wisconsin Poet Laureate, Bruce Dethlefsen of Westfield, who made over 140 appearances throughout the state during his two-year term. "Makes me tired just thinking about it," said Dethlefsen, a retired librarian and author of two collections. "A good kind of tired, though; I wouldn't have had it any other way." Dethlefsen was serving as Wisconsin Poet Laureate when the post and the $2,000 annual travel reimbursement were eliminated from the state budget. Dethlefsen continued on with no funding and no home base until the Wisconsin Academy stepped in to support the program. As part of the stewardship arrangement, the Wisconsin Academy provides publicity and space for the commission and poets laureate on its website, and helps in the selection of new Wisconsin Poets Laureate. TheWisconsin Academy also acts as the fiscal sponsor to allow the commission to receive tax-deductible donations.  For more information on, or to make a donation to the Wisconsin Poet Laureate Commission, please visit wisconsinacademy.org/poetlaureate.
---
Poetry Jumps Off the Shelf  Madison B-Cycle Poems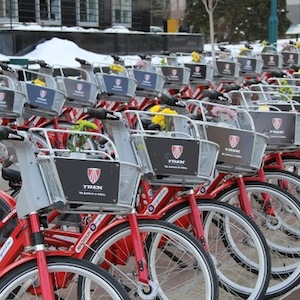 During April, National Poetry Month, Madison B-Cycle, a bike-sharing company sponsored by Trek will sport poetry on decals affixed to 30 
bicycles that will also be published in a larger anthology, Echolocations: 
Poets Map Madison. The poems  reference the Wisconsin Film Festival, 
a tree on Johnson Street, both lakes  Monona and Mendota, the since-gone 
Mifflin Co-op and State Street Bakers Rooms, the Memorial Union,
and the Arboretum, all locations within the B-Cycle radius. Shoshauna 
Shy of Poetry Jumps Off the Shelf was pleased to partner with Cowfeather 
Press and Madison B-Cycle to bring poetry to the public in this unexpected way.
The poetic bikes will debut in April, and the poets who participated received
a free annual membership to the program. Visit Madison B-Cycle
for details on the launch!
---
Milwaukee hosts 2nd Annual Midwest Small Press Festival

For the second year in a row, an enthusiastic group of independent literary presses including Burdock Magazine, New American Press, Pity Milk Press, Plumberries Press, Three Faced Media and others are hosting the 2nd annual Midwest Small Press Festival with events spanning from Friday May 31st through Sunday June 2nd.

The weekend-long event will center around a book-fair at the Polish Falcon (801 E. Clarke St.) on Saturday June 1st.  Here, small presses throughout the region are invited to display and sell their books. With presses coming from Illinois, Iowa, Kentucky, Michigan and Ohio, as well as from other parts of Wisconsin, the event promises to present an impressive introduction to the independent literary presence in the Midwest.

For more information about the festival including a complete itinerary and list of visiting presses please visit www.midwestsmallpressfestival.org.

Contact: Chelsea Tadeyeske
midwestsmallpressfestival(at)gmail.com
---
Poetry Out Loud Winners
Nayeli Itehua, Durand High School, was named Wisconsin's 2013 Poetry Out Loud state champ at its state recitation finals on March 16 at the Pyle Center in Madison.  She competed against seven  contestants from across the state in the poetry recitation contest.  She won $200 and a trip to Washington, DC, for herself and a chaperone where she'll compete in the national POL contest in late April.  Isabel Karp, sophomore at J M Memorial High School, Madison was the first runner-up winning $100.
Jim Fleming of Wisconsin Public Radio was emcee of the contest with Max Garland, Wisconsin's poet laureate, Wendy Vardaman, Madison's poet laureate, and Oscar Mireles, poet/educator, judging the event. Participating in the finals were students from Rhinelander, Milwaukee High  School of the Arts, Brookfield Central, Arrowhead/Hartland,and Holmen who had placed at the top of four regionals across the state.  Jacqueline Martindale, Sun Prairie, is the coordinator of the event for the Wisconsin Arts Board.
Poetry Out Loud is a national high school poetry recitation contest sponsored by the Poetry Foundation and  the National Endowment for the Arts through the Wisconsin Arts Board. Over three thousand students competed in the contest in Wisconsin.  The national contest awards  more than $50,000 to students. All high schools in the US are eligible to participate in this contest through a school's lead teacher. More information is available at www.poetryoutloud.org or elumn8@charter.com.
---
Haiku: Where Do We Go From Here?
The Midwest Region of the Haiku Society of America will host its Annual National Meeting with an exciting symposium and cultural events in Metro Chicago, Friday through Sunday, Sept. 27-29. The Symposium's theme will be: Contemporary Haiku: Where Do We Go From Here? The event will be held at the Holiday Inn in Evanston IL, along Chicago's North Shore.
The gathering is already drawing participants and speakers from 20 states, Japan, and Canada.
The Symposium will feature a keynote speech from Professor Toshio Kimura, Director of the Haiku International Association in Tokyo. He will speak on the new era of haiku and how the role of nature is being defined.
There will be a panel of editors addressing the future of American haiku. It will include: Stanford Forrester of bottle rockets, Francine Banwarth of Frogpond, George Swede, former Editor of Frogpond, Roberta Beary, Haibun Editor of Modern Haiku, and Dr. Randy Brooks, Editor of Mayfly. The panel will also field questions on what editors seek in haiku submissions.
Among other highlights will be a presentation on haibun, a prose piece that uses embedded haiku to enhance the composition's resonance and effect. During this presentation, haibun that has been submitted to the presenter ahead of time, will be anonymously critiqued during the session. There will also be a haiga presentation—haiku combined with art—by Lidia Rozmus, an artist-poet. Her work will be exhibited during the symposium.
In addition, Dr. David G. Lanoue, HSA President will give a presentation, "Reading the New Haiku," that will explore postmodern haiku of the 21st century to arrive at authorial intention versus readers' invention in haiku.
Other highlights will include a guided meditation, a haiku book/journal display with signings by authors, a raffle of haiku journals and books, and readings by poets.
The event will also feature networking meals held at ethnic restaurants in the quaint town of Evanston, and cultural events including a guided architectural tour of the world-famous Baha'i House of Worship in nearby Wilmette. This will also include a nature walk (Ginko)through the Temple's gardens to inspire the writing of haiku. Further, a guided tour of Northwestern University's Block Museum, a major tourist attraction, will be included, among other cultural field trips.
A schedule is available here. A full schedule of events, biographies of speakers, registration form, and instructions for hotel reservations, may be requested by email from Charlotte Digregorio, HSA Midwest Regional Coordinator, at c-books(at)hotmail.com.