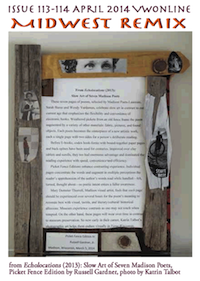 Verse Wisconsin's "Midwest Remix" issue contains poetry, prose, video, art, audio, photography, reviews & collaborative projects by over 200 contributors, including selections by VW's editors and ten Wisconsin guest curators!
Verse Wisconsin is a print-online magazine with compatible but different contents. Issue 113-114 is our last issue. We are closed to submissions and no longer accept books for review.
Coming Fall 2014: Cowfeather Press will publish an anthology of selected prose from VW Issues 100-114. An online archive of issues and a contributors' index will also be available in the Fall at VWOnline.
---
Event photos by Martha Kaplan. Audio from Echolocations' contributors.
Poetry collage, "Found Sound" & local haiku created 11-23-13 at the launch.
---
---
Poetry Bikes Launch in April 2013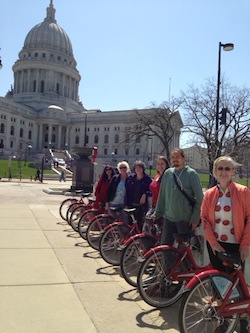 Poetry Bikes are part of a 3-way partnership of Madison B-Cycle, Poetry Jumps Off the Shelf, and Cowfeather Press. The 10 poems chosen by PJOS to go on the bikes are among those submitted to the Madison anthology project. They appeared, along with all of the selected poems, in Echolocations, Poets Map Madison, Cowfeather Press, Fall 2013. Proceeds from the anthology will go to the John Tuschen Poet Laureate Memorial Fund that exists to remember Madison's first laureate, as well as to provide, eventually, some expenses for projects of future city laureates. Thirty poetry bikes are available for rent through B-Cycle around Madison!
---
Verse Wisconsin in the News
Write Your Madison & Echolocations, Poets Map Madison in Capital Times 11/20/2013
Echolocations Shares Poetry about Madison in Isthmus 11/21/2013
Wisconsin Public Radio Spectrum West, 9/26/2013
WORT Radio Literature, April 25, 2013, Interview with Moisés Villavicencio Barras & Sarah Busse
Poetic Bike Launch (Cowfeather Press)
Wisconsin State Journal, Poetry in devotion: Committee seeks nominations for next statewide ambassador, 10/12
Madison Magazine Best of 2012 Award, 7/12
Wisconsin People & Ideas, "5Q-Cowfeather Press," Fall 2011
Wisconsin People & Ideas, "Verse-O-Matic Delivers Bite Size Poetry (and Candy)," Summer 2011
WORT Radio Literature, 4/21-11, interview with Wendy Vardaman on sonnets & VW105 Forms issue
VW 104 interview with John Koethe at Poetry Daily, 3/11
Duotrope Digest, 8/10, Interview
WORT Radio Literature, 7/22/10, 7:30 pm, with Sarah Busse
VW 102 interview with Matthea Harvey at Poetry Daily, 7/10
WORT Radio Literature, 10/15/09, 7:30 pm
Listen to an excerpt of Sarah Busse's interview with WORT