Verse Wisconsin 111 includes tributes to Phyllis Walsh and Hummingbird (guest edited by CX Dillhunt) and to Wisconsin's first poet laureate, Ellen Kort (guest edited by Fabu), a selection of poems guest curated by Gillian Nevers in partnership with the Madison Museum of Contemporary Art, prose about women as publishers, more than thirty book reviews, contributor audio, and poetry news in Wisconsin. Our next issue will be available in October!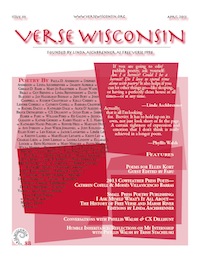 In 2013-14, Verse Wisconsin will appear biannually, Spring & Fall. Verse Wisconsin is a print-online magazine with compatible but different contents. From September-May we accept print submissions of any style, subject and voice, including verse drama. We also welcome reviews (see books received) and queries for essays about poetry, including those about writing groups, interesting or innovative poetry programs, and the intersection of poetry and daily life; we invite you to send photos of readings and poetry events to consider posting on the website, as well as notices about Wisconsin poetry news. Read, view, & listen to the online edition now. Subscribe to our print magazine for more poetry and prose. Please join us at an upcoming event, send us a link, and support Verse Wisconsin!
Our submissions are closed for the October 2013 issue, "Parents & Children." Watch for a new online call in the late summer!
Follow VW on Facebook for announcements about events, issues, & submissions.
---
"14 Broadsides," part of the "Poems About the Wisconsin Protests," will be on display at the URI-EICHEN Gallery, Chicago in June, 2013.
---
Poetry Bikes Launch in April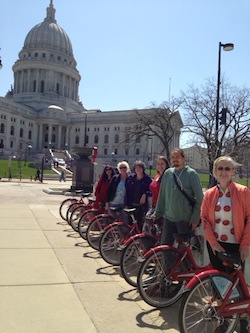 Poetry Bikes are part of a 3-way partnership of Madison B-Cycle, Poetry Jumps Off the Shelf, and Cowfeather Press. The 10 poems chosen by PJOS to go on the bikes are among those submitted to the Madison anthology project. They will appear, along with all of the selected poems, in Echolocations, Poets Map Madison, Cowfeather Press, Fall 2013. Proceeds from the anthology will go to the John Tuschen Poet Laureate Memorial Fund that exists to remember Madison's first laureate, as well as to provide, eventually, some expenses for projects of future city laureates. Thirty poetry bikes are available for rent through B-Cycle around Madison!
---
The Verse-O-Matic
The Verse-O-Matic poetry dispenser debuted at the joint Verse Wisconsin/ Poetry Jumps Off the Shelf launch in April, 2011. The original jawbreaker poems appeared in VW106.
The Verse-O-Matic currently dispenses shorter poems from the 2013 Wisconsin Poets' Calendar! The new Calendar is available through the Wisconsin Fellowship of Poets.
Interested in having the Verse-O-Matic travel to your library/ school/ business/ community center? Contact sarah(at)versewisconsin(dot)org.
---
More Upcoming Deadlines

Wisconsin Fellowship of Poets Annual Poetry Contests
February 1: Chapbook Contest, Muse Prize, Student Contest
August 1: Triad Contest
Wisconsin Academy Poetry Contest, December 15
---
Newer Wisconsin Poetry Publishers
---
Verse Wisconsin in the News
WORT Radio Literature, April 25, 2013, Interview with Moisés Villavicencio Barras & Sarah Busse
Poetic Bike Launch (Cowfeather Press)
Wisconsin State Journal, Poetry in devotion: Committee seeks nominations for next statewide ambassador, 10/12
Madison Magazine Best of 2012 Award, 7/12
Wisconsin People & Ideas, "5Q-Cowfeather Press," Fall 2011
Wisconsin People & Ideas, "Verse-O-Matic Delivers Bite Size Poetry (and Candy)," Summer 2011
WORT Radio Literature, 4/21-11, interview with Wendy Vardaman on sonnets & VW105 Forms issue
VW 104 interview with John Koethe at Poetry Daily, 3/11
Duotrope Digest, 8/10, Interview
WORT Radio Literature, 7/22/10, 7:30 pm, with Sarah Busse
VW 102 interview with Matthea Harvey at Poetry Daily, 7/10
WORT Radio Literature, 10/15/09, 7:30 pm
Listen to an excerpt of Sarah Busse's interview with WORT