Welcome to Verse Wisconsin's Issue Archive 2010–2014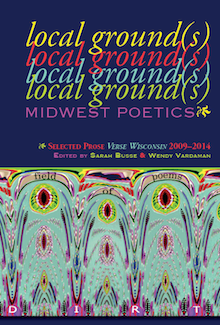 Verse Wisconsin (2010-2014), a non-commercial, hybrid print-online magazine with compatible but different contents, published 15 online and 13 print issues. Its last issue appeared in April, 2014. This website archives all 28 issues, as well as information about more than 60 VW events held in Wisconsin and beyond. VW's editors publish occasional projects as Cowfeather Press. Follow Cowfeather on Facebook.
The anthology, Local Ground(s)—Midwest Poetics: Selected Prose Verse Wisconsin 2009-2014, Edited by Sarah Busse & Wendy Vardaman, Cowfeather Press, 2014, collects some of the essays published in Verse Wisconsin, and is also VW's final print issue (114). Click on links below to browse our free archive. Rights to all work belong to individual authors.
2013
2012
2010